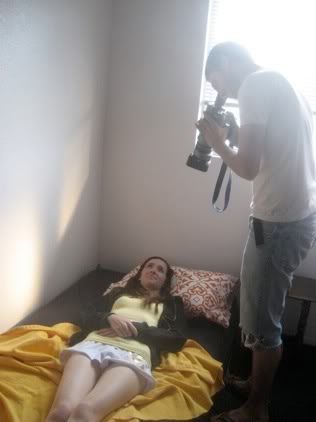 No, I'm not making apocalyptic porn
Hey kids, I feel like the past few weeks had been my longest absence and I hate that. I've probably got too much on my plate and I'll spell it out here to give myself some sort of excuse for the lack of reviews (but when my schedule normalizes in the fall I know it'll get better).
What I am doing right now:
Full time film major/English minor at UC Santa Barbara
Applying to Graduate School (taking the GRE next week)
Pitching a short film next week,
Until The Very Last Moment
(6 month production, decent budget, will take up every weekend from now until March)
Submitted my last film
Chimes Of Gaviota: or I've Got The Real Estate Blues
to the SBIFF (Santa Barbara International Film Festival) and making a special edition DVD
Finishing a script with a PHD student about the war in IRAQ to be produced in the fall
Working at Video Services (taping lectures, events, etc.)
Writing articles for
Artsweek
, the entertainment section of our school newspaper,
The Daily Nexus
Will be writing articles for
WORD
, a local Isla Vista magazine
Playing shows as
Existential Hero
and making another album or two
Being an active member of
CLLCT
And of course writing for
Foggy Ruins Of Time
I'm sure there are those crazier than I, but I'm hustlin' as much as I can. Again I think when I start having classes and my film gets started, the time will be more regimented and I'll actually have no excuse to not give you more reviews and interviews.
So if you look below there is a review of the new Just Joans album (hint: it's pretty darn fantastic), and right now I'm working on a review for the new Let's Whisper EP. Hopefully next week I'll have my long delayed interviews with Star from The Elated Sob Story, Rusty Anderson from The Top Grossing Films Of 1984 and Rob and Max from (Gang Of) Virgins. I've also received a few new CDs in the mail so look for some new faces soon.
Oh yeah, that poll: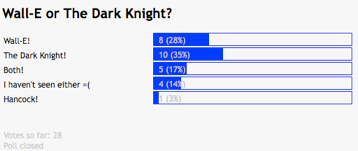 Wall-E
and
The Dark Knight
were so very close and as a tag team they did well too. I suspect
The Dark Knight
won because of
Wall-E's
divisive philosophy on the future of the human race; although, both movies kind of share that view. Shame on those who haven't seen either, but I suspect that by now they will have. And who the hell liked
Hancock
over the other two? Will Smith is pretty charming, but that movie was a mess.
I was planning to write a review of
The Dark Knight
, but seeing it in IMAX never panned out. I may write one eventually.
NEW POLL, check it out and leave any comments here.
Okay, so thanks everyone for being patient, I should be back on track soon.
Mp3:
The Brooke (a tiny ocean)-"Born On A Train