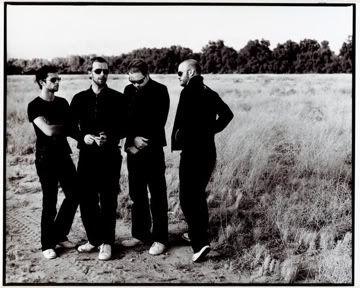 So we finally get to hear a song off
Vida La Vida or Death And All His Friends
due for release on June 17th."Violet Hill" is the first single and is available to download for free for one week at their main website (or here).
So does it live up to all the experimentation/latin-influenced talk that's been milling about from the band?
Well it's the first single, and first singles usually (most often/always) sound the most like the band's previous album and this song is no exception. With that said, I am starting to really dig it. It has a really nice groove to it, dirtier guitars and a nice sleazy bassline. Still, it is very piano heavy (not a bad thing, the end works for me) and Chris Martin's voice is the same as before (there has been mentioning of other songs on the album in a lower register).
But I say check it out and make up your own mind and check out the pretty sweet album cover
here
.
Tracklist for
Vida La Vida or Death And All His Friends
1. "Life in Technicolor"
2. "Cemeteries of London"
3. "Lost!"
4. "42"
5. "Lovers in Japan"/"Reign of Love"
6. "Yes"/"Chinese Sleep Chant"
7. "Viva la Vida"
8. Violet Hill"
9. "Strawberry Swing"
10. "Death and All His Friends"
Mp3:
Coldplay-"Violet Hill"
Link:
Coldplay.com