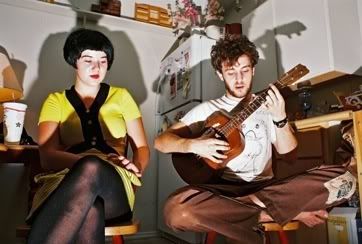 What is Tinyfolk now? The days of "Love Is A Thing" are far-gone and the new EP from Russ Woods and Meghan Lamb,
Jack's Broth
, feels like a watershed for Tinyfolk, a change is in the wind.
First of all, if I'm not mistaken, Tinyfolk's key instrument, the baritone ukulele, is nowhere to be heard. Most songs use acoustic guitar, piano or are acapella. Aesthetically most of this EP recalls a more stripped down approach of early Tinyfolk, but is more assured and more purposely minimal.
"Antelope" appears to be a purging of the more self-described "bloated" and zany Tinyfolk of the
Bill/Valley Forge
albums. A Spaghetti Western-esque musing on looking for food, it contains various voices to provide its humor in its rhymes.
This cover of David Bowie's "Five Years" is probably one of Russ's most impassioned performances on tape. And by tape I mean the sound of song. It has an intentional "on the radio" sound that works well with how bare it sounds.
"Wandlight" is the first out of two songs that were supposed to go on a concept EP about the relationship between the wizards Dumbledore and Grindelwald from the
Harry Potter
series. It's sensual, features some subtle production work and is quite moving. Russ's singing on this song is quite exceptional.
The acapella cover of Gene Chandler's "Duke of Earl" is probably one of the most adorable songs in the Tinyfolk canon. Featuring Meghan Lamb's heavenly voice more prominently, it is intimate, silly and fun.
"Before Our Beards Were Long" is the second song about the romance between Dumbledore and Grindelwald and again for not being a
Harry Potter
fan I am extremely moved by this song. It's incredibly sad.
Jack's Broth
is all about re-contextualizing familiar Tinyfolk behaviors, themes, motifs, etc. "Antelope" uses
Bill
-esque arrangements but infuses it with the vastness of
Little Mice And Other Things That Go Skitter Skitter
. "Five Years" takes a glam-rock song and brings the level of intimacy seen on
"Platapeasawallaland"
. "Duke of Earl" plays off the twee cuteness of early Tinyfolk but is now acapella. Both of the
Harry Potter
romance songs use humans (wizards) as the subject for deep emotion instead of animals as on all other Tinyfolk albums.
So
Jack's Broth
is a mish-mash of songs that work surprisingly well as an album (EP) and all hint at a new future for Tinyfolk. I wait with excited anticipation.
Mp3:
Tinyfolk-"Duke of Earl"
Links:
Download Jack's Broth for FREE on CLLCT
Tinyfolk on Myspace