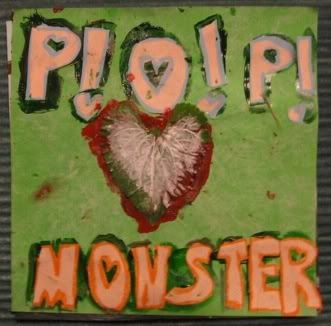 I'm not sure if everyone knows, but Isaac of Blanketarms, Isaac Arms, The Spooky Ghosts, and the man behind the beloved Pop Monster Collective has called it quits. While I am deeply saddened we all do what we need to do and I'm just happy Isaac is letting the legacy live on by allowing us to post the entire discography onto CLLCT.com (or as much as possible). Today I personally put up Blanketarms's masterful double album
Sweet & Sour
along with their side of the activist-minded
One Small Fist
split. I also put up Isaac's solo record that I won't shut up about. Russ of Tinyfolk is also working on uploading more material and if any of you have something that we might not have let us know!
I like to talk about how I got into lo-fi music a lot lately (or at least the events behind it) and I just remember Blanketarms being one of the first bands I listened to. The first song I heard was "Heartbreaker," the version off of their tour CD-R (anyone have the entire disc?). I was transformed completely and utterly forever. I never heard something so raw, so honest and so unexpected. From that moment I had to find more. I was freshman in college and I was vulnerable and open and I wanted to consume everything lo-fi; luckily Pop Monster Collective was right around the corner. I immediately started snatching up records from Blanketarms, Tinyfolk, Real Live Tigers, Super Famicom, Jon Crocker; you name it I was listening to it. And not just Pop Monster either, but I would follow myspace top 8s to get to any artists that sounded like the perfect fit.
It wasn't just about listening to all these wonderful artists, but it was about the spirit of DIY and how it didn't matter if your guitar was a twenty-five dollar toy guitar, if it was broken, or if it was a thousand bucks. You could record your songs on cassettes using headphones, using iPod mics, or even the recording device that comes with windows; it didn't matter. For the first time in my life I knew that if I made music someone would listen because in this community everyone was willing to give you a chance.
I mean I can honestly say that my entire train of thought was effectively altered forever because of Blanketarms, Pop Monster Collective, and all of you fine folks out there doing what you love no matter what. I grew up in place where most people had ZERO passion and suddenly discovering so many people who cared deeply about what they were doing inspired me to become a more driven and confident person.
So what I do is for all of you. I want to make Isaac proud, Pop Monster proud and all of you proud of what I do, you do, what we did, what we do and what we will do. We are all artists and no matter what, we always will be.
The legacy of Pop Monster Collective will never die and I suggest for those uninitiated check out every artist that was a part of that family.
Mp3s:
Blanketarms-"Heartbreaker (Unripe Version)"
Isaac Arms-"Us Vs. Stuff"
Real Live Tigers-"No Regrets"
Tinyfolk-"Dear Apollo"
Rambling Nicholas Heron-"Only This And Nothing More"
The Spooky Ghosts-"Ghoul's Night Out"
Super Famicom-"I Evaporate"
LA Beard Club-" Harder Than It Has to Be"
Links:
The Pop Monster Collective site
Pop Monster on myspace
CLLCT.com where the legacy lives on!
Blanketarms-"Ya Basta!"
Get up and out of bed and in your car and off to work
Complain cuz greatness passed and you're just stuck with common jerks
So you've been lost so long just like a cog it's not the end
And it won't kill you to destroy yourself and start again
But I refuse to believe that no one gives a shit
And I think we, we watch ourselves sink
Just because we're used to it
You know how nacho cheese it gets real stiff when you let it sit
Well I think your eyes are pale
And your soul is stale cuz you don't do shit
Just ride a bike or read a book or send a letter home
Or build a new friendship cuz we weren't meant to be alone
But I refuse to believe that no one gives a shit
And I think we, we watch ourselves sink
Just because we've given up
But enough is enough