A note on Wee Pop! Records. They are in their own words "a brand new label dedicated to limited run, lovingly hand crafted, assembled and numbered, wee tactile packets of lo-fi POP!" When I first heard of them on
Retrolowfi
I knew they were right up my alley. The reason I love lo-fi music in general is because the kind of care and love that goes into every aspect of production. And Thor and Camila from the UK have lots of love to give everyone.
But, now on to their fifth release!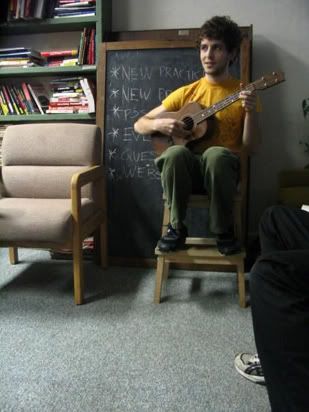 I love Tinyfolk. Let me just put that out there. From the moment I heard "Love Is A Thing" I knew I wanted to hear more. You can imagine I was excited when Wee Pop! Records sent me his new EP
Pizza Under The Sea
to talk about. A few weeks ago I reviewed Tinyfolk's 2007 album
Bill
and this new EP is sort of an aside to the recent stylings of Russ Woods, sort of. This EP also acts as sort of a single cd because of the presence of "Really, Really Blue: A Tale of Unrequited (Perhaps) Romance and Lizardry" which is on
Bill
. This EP also acts of a mini-collection of b-sides, covers and songs that have appeared on compilation records. So what does all this do for these six songs? Well, they are cute and diverse, but still retain the charm of Russ's unique voice. "Mourning Dove" a lovely song with a clever title is quick and furious, over in fifty-eight seconds, but Russ finds a way to use "Nuclear Fission" as a rhyme and that's pretty cool. "A Waltz" is a song that sounds like its title and tells a story that many people might relate to or one day might relate to. It also sounds like its being played on an old phonograph. I always wanted to know how that effect was achieved. My favorite track besides "Really, Really Blue…" is "Do Animals Get Lonely Late At Night?" It is a sweet song that continues Tinyfolk's obsession with critters. A nice companion to
Bill
, get the this EP, you won't disagree.
Mp3:
Tinyfolk-"Do Animals Get Lonely Late At Night?"
Links:
tinyfolk.com
Tinyfolk on myspace
Buy the EP and other Wee Pop! Records releases here