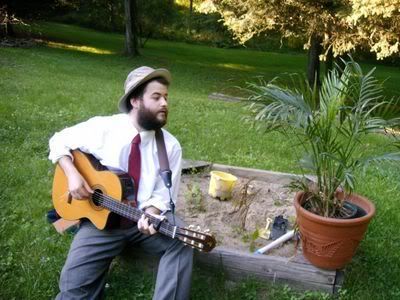 Who is Isto? Some say he is more beard than man, a lumberjack, half a bee, a living legend not only in the You Tube world but throughout. Some even say he is a real-life version of Tom Bombadil, but even more musically inclined. Whoever he really is, Chris "Isto" White has over a 100 songs on You Tube (and more on his site) of him playing songs on classical guitar. Some are originals and some are covers, but no matter what he plays it is exceptional and I would even say magical. I have never been head over heels for The Beach Boys, but who doesn't love "God Only Knows"? I discovered Isto's version and fell even more in love with the song. The lyrics really penetrate deeper with the simplicity of a classical guitar and Isto's voice rises and falls perfectly. The stellar ending extenuated by his desperate and rough delivery gives us the true feeling of "What I'd be without you". Did I say that he is a fucking amazing guitar player?
Mp3:
Isto-"God Only Knows"
Links:
Lumberjackisto.com
You Tube Page
Isto on myspace
The video of him playing "God Only Knows"