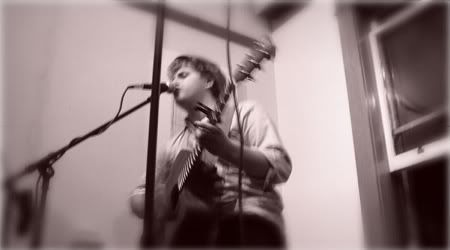 Atascadero's Morgan Enos sounds exactly like a boy who listens to too much Bob Dylan and Neutral Milk Hotel and it ain't a bad thing in the slightest. Lyrically, Morgan is further ahead of the game than the rest of us. I think in high school I was writing Blink-182 style couplets. On his true blue debut album
Lucky Stars
, Morgan culls the best tracks from some older EPs and a couple new gems.
Inherently this creates a problem because
Lucky Stars
ultimately feels like a collection of songs rather than an actual album and I almost wish he could have written a few more new tracks. Don't get me wrong I'm glad that more people will get exposed to tracks like "A Bird And A Wire" and "Seventeen Flowers." The former track is especially startling and quite possibly the best song Morgan has written. I'm just going to post a sample of the lyrics for you all to bask in:
Oh girl left behind in a canopy/I'm picking off my worries from cherry tree/You're the only thing that makes any sense to me/You're the only thing that makes sense to me

But tonight I think of all I missed/while the spring time bends down for a kiss/ And she shudders and sputters and sparks in the night/ when there's nobody there to set her right

I'm a cloudy crazy weather in the front of the room/ You're a seasick sunbeam and up high you loom/Just out of reach and out of touch/On my boney wings I send my prayers up
Morgan's punky/nasally/raspy voice provides a cool contrast to the straight acoustic material and often is serviced better to faster tempo numbers. On slower songs such as "Climb Aboard" and "Jupiter," things can get a little ponderous.
Lucky Stars
is primarily and introduction record meant for everyone to get a good glimpse at what Morgan Enos is all about. Sometimes he still stays a bit too close to his influences, but if anything it's giving him the confidence necessary to expand his horizons. He's doing some great things and really it's only up from here.
Mp3:
Morgan Enos-"A Bird And A Wire"
Link:
Morgan Enos on Myspace!