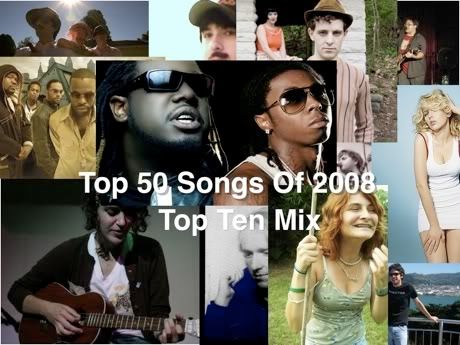 I think some people may have been confused about the top 50 songs list. It is in alphabetical order. I know some of you may hate that, but hey that's how I roll.
However, I realize fifty songs is a lot to track down. So to meet you dedicated readers halfway here is my TOP TEN songs of 2008 IN ORDER to d/l and enjoy as a mix.
You better enjoy it.
1.
"Thus Always Horses"-Tinyfolk
2.
"Can't Believe it (Feat. Lil Wayne)"-T-Pain
3.
"Anywhere I Lay My Head"-Scarlett Johansson
4.
"Cocaine"-Gang Of Virgins
5.
"Pygmalion"-Withershins
6.
"A Wonderful Year"-Let's Whisper
7.
"Let Me Love You"-Candle
8.
"Shower"-Watercolor Paintings
9.
"I'm On a Talk Show"-Chris Zabriskie
10.
"Now Thats What I Call a Circuitous Conversation"-Jaw-Zizzle
Link:
Top 50 songs of 2008