This is a segment I hope to do once a year where I pick one artist I really admire and trace their journey through that respective year.
Naturally for 2008 I chose Indiana's Tinyfolk, Russ Woods and (sometimes) Meghan Lamb.
It's no secret the praises I sing about Tinyfolk and how much coverage I have allotted to them, but trust me when I say Tinyfolk is the most interesting DIY act out there right now.
2008 was a unique year for Tinyfolk, chock full of releases, but only one true album. Is this indicative of changing times? Does the album format even work anymore? I'd like to think so, but Russ's interests came in little bursts of Garageband folk, cataclysmic R&B, schizophrenic electronica and by the end of the year stripped down ukulele pop with all of it wrapped up in a nice Post Easy Listening bow.
So let's do this release by release with a bit of other news thrown in for good measure.
Valley Forge
(February 2008):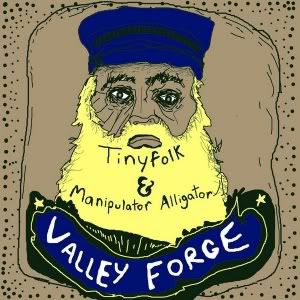 Released in hardcopy (still never got mine!) on Sanitary Records in March, this split with Manipulator Alligator is most directly a follow up to 2007's
Bill
. The songs display a beginning obsession with the Mac's Garageband program and use its tools to bring on the weirdness in a fun, if solemn way. "Valley Forge" uses a standard click track with Tinyfolk's signature baritone ukulele to weave a tale somehow relating George Washington and the film
Hustle & Flow
. One of Russ's first instances of sampling appears on "On Fire" to a frightening effect. "Golden Fur" recaptures if not trumps the epicness of
Bill
with its stomping rhythms and harsh guitar playing. The split ends tenderly with a reading of a poem (I can't remember the author) and it's terribly pretty.
Jack's Broth
(March 2008):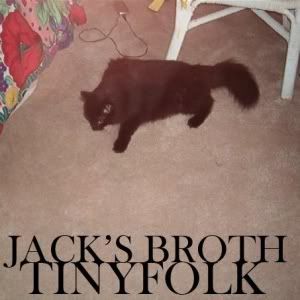 As I wrote in my original review of this teaser EP,
Jack's Broth
is in many ways an exorcism of everything before to prepare us for
Sic Semper Equis
, his next album. "The Antelope" follows in the same tradition as
Valley Forge
with pitch corrected vocals and lots of minor chords. Meghan finally shows up again on a cover of "The Duke Of Earl" that is truly magic. Also on this baritone ukulele-free EP is two songs relating to the love life of Dumbledore the master wizard from Harry Potter. Both songs are delicate and "Before Our Beards Were Long" is really really sad.
Sic Semper Equis
(June 2008):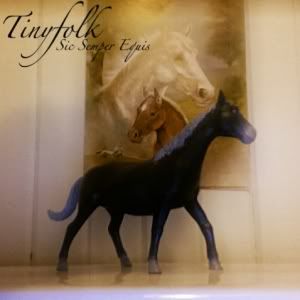 There is before
Sic Semper Equis
and there is after
Sic Semper Equis
. My hyperbole praise of Tinyfolk's postmodern masterpiece is probably irritating by now, but I still can't get enough of it. "If I Was a Person," a classical guitar prologue, quietly builds us towards the epic R&B auto-tuned "Thus Always Horses," my favorite Tinyfolk song and one of my favorite songs this year. The song washes over you like a cold shower or a dive into a cold lake. Its imagery of panicking animals in response to Y2K is at once hilariously absurd and fittingly melancholy. The whole album straddles that line with songs like "Little Goat," the "I told you so" animal in the forest, "The Forest Knows" a hip-hop exercise featuring Redbear. and Mike Lightening observing the total chaos around them and "Animals Are Stupid," the other epic beast on the album that wraps up the story, but leaves us with plenty of questions to ponder.
Steel Magnolias
(July 2008):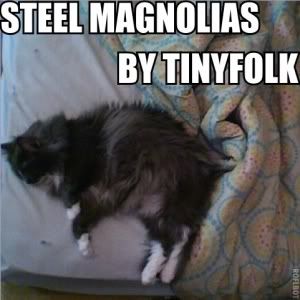 So what do you do after you've created a masterpiece? If you're like Russ you say "Fuck it" and make your half of a split with Brother Bird into a bizarre series of electronica tunes that eschew most melody and traditional song forms for blips, bleeps and buzzes filled out by clever samples and lyrics that are probably more upfront than ever before. It really grows on you I must say. The lumbering "Is There Sex After Death?" one of the more traditional songs on
Steel Magnolias
is anything but actually. Necrophilia has never been sexier.
Catfood Shotgun Goddamn
(August 2008):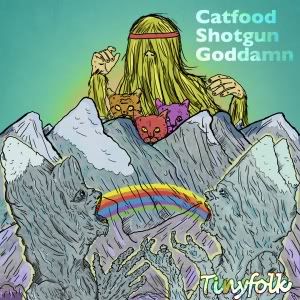 Mostly comprised of Podcast theme songs,
Catfood Shotgun Goddamn
is a coming to the surface from the proverbial trenches dug by
Sic Semper Equis
and
Steel Magnolias
. "Ear Drugs Theme," the new intro for James Eric's Podcast, is a beautiful little song that samples the Golden Girls tv show of all things. The highlight and star of this album is Tinyfolk's cover of the Hello Shark song, "Bubble Guns." Truly one of the most melancholy techno songs, it has a fierce sense of energy and a linear revelatory follow up to
Sic Semper Equis
.
Look To The Sky!: Tinyfolkian Scraps
(October 2008):
As it says in the name,
Look To The Sky!
is a collection of b-sides and offshoots even more random than
Catfood Shotgun Goddamn
. Tracing all the way back to 2005 til now, this collection works surprisingly well as an album. "Lost In Found," an old school baritone ukulele Tinyfolk song provides a sweet contrast to the bumping and pulsing electronica, "Sleeper Sofa," which in turn careens us into "Stay Poor," a terrifying nightmare cover of a Real Live Tigers song. "A Terrible Crash (Magic Horses!)," seemingly follows up "Bubble Guns" with more techno beats, but it is more obtuse and a lot of fun.
The things we cherish are small indeed.
(December 2008):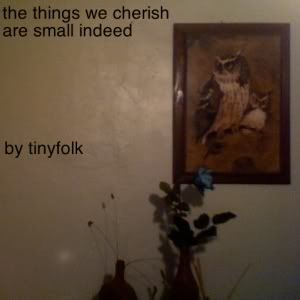 Things come full circle with this four song EP recorded on baritone ukulele with no overdubs outside on Russ and Meghan's porch. The two recently got engaged and this EP, especially "Lunches," Tinyfolk's most touching song this year, is evidence of this in many ways.
It should be noted that throughout the year Tinyfolk appeared on several tribute albums (
21 Love Songs
and
The Roaring Nineties
), did a collaboration two song EP with Mike Downey together called A Football Fields and was a regular contributor to the monthly CLLCT compilations.
It seems in 2008 that with the release of
Sic Semper Equis
it would have been impossible to try and follow it up in any traditional form. So instead listeners were treated with a bevy of EPs and single tracks that experimented so wildly that the only place Tinyfolk could end up at the end of the year was back to where he started.
Funnily enough Tinyfolk, inspired by James Eric, just released
Owling
, a greatest hits album going all the way back to Russ's first project A Pilgrimage To Save This Human Race.
So where will Tinyfolk be heading into 2009. Well rumors are afoot of a new album and a gig composing a student film. Little is certain in the Tinyfolk universe other than that it'll be weird and pretty darn awesome.
Youtube version of "Lunches"
Best of Tinyfolk 2008:
"Valley Forge"
"Duke Of Earl"
"Can You Feel The Love Tonight?"
"Thus Always Horses"
"Is There Sex After Death?"
"Rabbit Washington"
"Bubble Guns"
"A Terrible Crash (Magic Horses!)"
"Lunches"
Links:
Tinyfolk on Myspace!
Tinyfolk on CLLCT!
Previous Tinyfolk articles on Foggy!