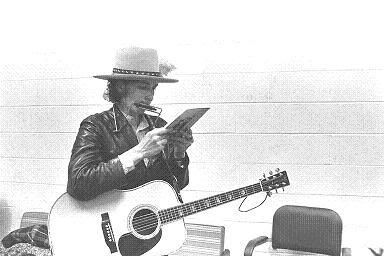 Taken During the Rolling Thuder Revue Tour in 1975
The "youth" like myself go through a pretty typical evolution while discovering Bob Dylan. We all start with the early folk years that by now are blended with the "going electric" years (kind of funny if you think about it). Usually
The Freewheelin' Bob Dylan
or
Blonde On Blonde
are the stock favorites. Then most people go from there into either
John Wesley Harding
(if you are a hardcore folkie) or
Blood On The Tracks
(if you're of the introspective persuasion). Where do the "youth" go after that? Well unless you got into the recent release
Modern Times
, most casual fans stop there. Now I am very aware of the pitchfork factor going on here (am I pretentious for making pitchfork a stand-in for pretentiousness?), but regardless the point of this post is to make people aware of other parts of Bob Dylan's catalogue you won't find on your nearest hipster's iPod.
Oh Mercy
:
Released in 1989 and the first album produced for Dylan by Daniel Lanois,
Oh Mercy
is one of Dylan's greatest albums. The songs shimmer with a kind of energy not seen since
Slow Train Coming
. It kicks off quite insidiously with "Political World" a fun, romping protest update that is anything but positive. "Ring Them Bells" is a great spiritual song where the words themselves weave together poetically. "Most Of The Time" is a beautifully written song about crumbling self-denial. The whole album is sonically delicious and is layered quite intricately; definitely check it out.
"When The Ship Comes In":
Released on 1963's
The Times They Are A-Changin'
, this song was written in frustration of a refused entry into a hotel, yet it is became so much more. This is one of the great Dylan anthems and deserves so much more attention than it is given. It's moving and empowering and refuses to quit.
"Corrina, Corrina," and "Honey, Just Allow Me One More Chance":
Both based on "traditional" songs, Dylan took the originals really made them all his own. Both taken off of
The Freewheelin' Bob Dylan
, this one-two punch couplet is very complimentary to each other. Both are songs of longing, "Corrina, Corrina" is quiet and sad while "Honey, Just Allow Me One More Chance" is an energetic stomp of hopeful desperation. Two underrated gems on one of Dylan's most famous albums, really take a second listen to these two.
The Bootleg Series Volume 1
:
Were most of these songs really rejects from Dylan's first three albums and if so damn, anyone would beg to have b-sides this fucking good. "Hard Times In New York Town," "Let Me Die In My Footsteps," "Rambling Gambling Willie," "Quit Your Low Down Ways," "Walkin' Down The Line," "Talkin' John Birch Paranoid Blues," and of course "Who Killed Davey Moore?" are all amazing songs that could easily be an album unto itself. These are b-sides? Really?
"If You Gotta Go, Go Now (Or Else You Got To Stay All Night) (Live 1964 Version)":
The electric version was released as a b-side in Europe during the release of
Highway 61 Revisited
, but it's the version played at the famous Halloween show in 1964 (released as
The Bootleg Series Vol. 6, Live 1964
) that I really dig. Sort of a relief between "Gates of Eden" and "It's Alright, Ma (I'm Only Bleeding)," this is a hilarious and clever song about hooking up; it ain't just a modern phenomenon.
"Cocaine (
Live At The Gaslight Café
)":
I talked about this before as an
Mp3 of the Week
and I still think it's a beautifully fragile rendition of a crazy state to be in.
"Baby, Let Me Follow You Down" and "One Two Many Mornings" (Live 1966):
In the historic "Albert Hall" concert of 1966 (Released as
The Bootleg Series, Vol. 4
) Bob Dylan only played three pre-electric songs and these two songs are reworked quite beautifully, one more dramatically than the other. "Baby, Let Me Follow You Down" is certifiably blues and rocks fast and furious. "One Two Many Mornings" was one of the only none political songs off of
The Times They Are A-Changin'
and here is transformed into a booming, slow burner with an equally cool reworked chorus. Both demonstrated Dylan's dedication to pissing off the old guard, but how could you argue with such majesty?
"I Threw It All Away":
Released off of the magnificent country album
Nashville Skyline
, this is one sad country song. I play it at my shows often and it's because anyone can so terribly relate to this message of love we often let go of foolishly. The croon used on this entire album is used most effectively here and will have you welling up guaranteed.
Dylan Playing The Piano:
Nowadays he often plays piano more than guitar, but earlier in his career he used the piano in quite interesting and bizarre ways. Never played live ever, "Black Crow Blues (off of
Another Side of Bob Dylan
" is light and springy and sounds like it could be played in a saloon. "Day of The Locusts" off of
New Morning
takes on a gospel, organ-laden lilt about being at a university. "If Dogs Run Free" and "Father of Night" off of
New Morning
are funny, strange jazz numbers that really entangle the dynamic between vocals and piano. "When He Returns" is the closer to
Slow Train Coming
, Dylan's first Christian album in 1979 (And a fantastic one at that). This song focuses solely on a lone piano and Dylan's more affected vocals. The passion is immense and makes for a very moving experience. Messy and only a shadow of what it was to become, "Like A Rolling Stone" was first written on the piano. This demo (
On The Bootleg Series, Vol. 3
) carries a waltz-like quality and is fascinating for no reason other than the fact that it's played so whimsically at first. Even he had no idea what it would turn into. Dylan rarely released himself playing piano during the majority of his career (until
New Morning
), but even at the beginning he could see its endless possibilities.
"Shelter From The Storm":
One of my favorite Dylan songs out of his entire catalogue, this number from 1975's classic
Blood On The Tracks
is certainly one of my favorites. I feel safe and at home when I listen to this, nothing that real life could guarantee. This song will never let me down.
So again to reiterate, this selection was mostly meant for me to tell you all some of my favorite Dylan moments, songs and albums that aren't necessarily being played in every college dorm room. Some might contest me on this, but really, just take a listen and you'll discover something cool and maybe new from the greatest songwriter of the last century.
Link:
BobDylan.com