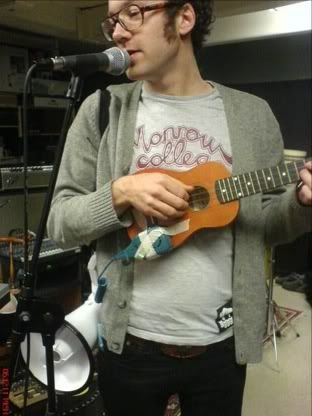 I was really excited for this release. Mailed quick by the lovely folks at Valiant Death Records, Rambling Nicholas Heron's new record
Here In Dreamland
arrived in my mailbox just before Christmas. And what a lovely gift this album is. Rambling Nicholas Heron and his band hail from Sweden and make confident, smart and tender music. I feel like he could be an old friend of mine and whenever I listen I get flashes of my time spent in mainland Europe. Not the museums or the big cities, but the rolling green hills with snow-capped mountains in the back with embedded castles are what I imagine while listening to this amazing folk-pop album.
"Pillow Book" immediately struck me and is somewhat unlike my previous signifiers. Driven by a samba-esque rhythm this song takes an attitude like "Like A Rolling Stone," only appears more subversive. Lines like, "Since that morning I've been yearning to live/In that moment forever/Julie and sleepy/In truth that's the way that I am/Only you wouldn't know/And never have guessed it," fall back and forth deceptively from biting to beautiful.
"As If I Didn't Know It" is a song that is right on the edge of falling apart. The vocals are almost above their range, a pan flute sounds half broken and the beat is almost just a bit off, but it fits the theme of the song very well. Rambling Nicholas recalls very relatable experiences of when we choose ignorance because we just do. "I turned to writing on my walls/Pretending I was a master poet/William Blake I wasn't/But I acted as if I didn't know it/As if I didn't know it," are probably my favorite lines on the record and really capture one aspect of Rambling Nicholas Heron very well. So does the song fall apart in the end? Yes, but in a bed of laughter and a bit of call and response that'll make you smile.
This album is chock full of great instrumentals, but the two intermezzos "Passing Time" and "Precious Things" are sublime bits of old-timey European comfort.
Being in the midst of my Carpenters obsession, hearing "Only Yesterday" on
Here In Dreamland
was a wonderful surprise. I spoke with him on the difficulties of singing their songs (Karen's voice is something to behold) and Rambling Nicholas manages to pull it off well...Much better than I can that's for sure.
"Born to Sleep in the Sun" is the sound of pure ukulele bliss and that's all there is to it.
Here In Dreamland
ebbs and flows quite wonderfully and when I listen to it I became more serene during those fifteen tracks. It might be because of Rambling Nicholas Heron's soothing vocals or the abundance of instrumentals or the confidence in the lyrics; either way
Here In Dreamland
is a pleasant, warm and rewarding experience many many times over.
Mp3:
Rambling Nicholas Heron-"As If I Didn't Know It"
Links:
Rambling Nicholas Heron on myspace
Order the album from Valiant Death Records