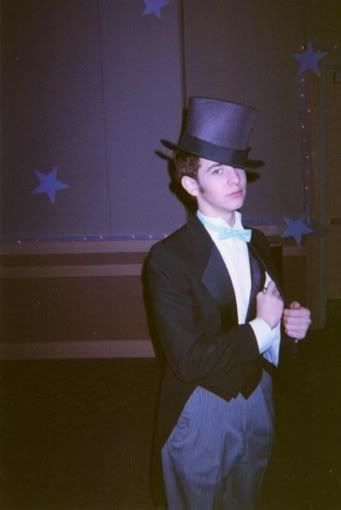 Released in early 2007, Tinyfolk's
Little Mice And Other Things That Go Skitter Skitter
is an album caught in transition. Containing qualities of his earlier twee pop glee with the grander production and themes of his more recent releases,
Little Mice And Other Things That Go Skitter Skitter
has a striking intimacy brought to fore so beautifully due to it's presentation.
Let me just tell you now, the first four songs are flawless. Starting off things familiar and joyful, "Love Is A Thing," lulls you in with its adorable chorus and delicate verses (When its played live they are usually improvised!).
A cover of The Field Mice's "Emma's House" really shatters me and if you had only heard early-Tinyfolk up to this point, this song will change everything. Its melancholy (the accordion extenuates this mood well) and when I listen to it I remember everything I've ever lost in my life.
"To Answer Your Question, Yes," is probably Russ's most personal song ever written (or at least self-aware/self-referential). I think everyone at 001Collective can relate to this song if not every artist out there.
"Trees" is brilliant in every way conceivable. About a man named Harold, "Who's lonely and he doesn't know why," This song is the precursor for many Tinyfolk songs about melancholy characters trying to escape from their socially constructed surroundings. And In some ways I feel like this song is the prequel to Paul Simon's "You Can Call Me Al (Which Tinyfolk covered funnily enough)." The song is broken up into several parts including a haunting whistle-sounding breakdown and then a slow shower of piano keys with the baritone ukulele remaining as a constant. Its more than just sad, but we so desperately want things to get better for Harold that we would do anything for him (in some ways we all are Harold).
Little Mice And Other Things That Go Skitter Skitter
is a rewarding album in many ways and although the second half lacks some cohesion, not many artists could pull of the "transition stage album" as gracefully as Tinyfolk does.
Mp3:
Tinyfolk-"Trees"
Links:
tinyfolk.com
Tinyfolk on myspace
Pop Monster Collective
Little Mice And Other Things That Go Skitter Skitter on 001Collective
My Pizza Under The Sea EP review
My Bill review