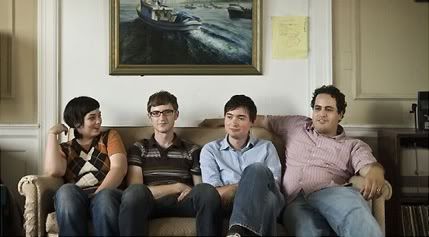 Oh what's that? You mean you aren't listening to the newest One Happy Island EP
Secret Party That The Other Party Doesn't Know About
from the greatest little record lab Wee Pop? Not even on vinyl? That's a shame, a damn shame.
For the less savvy, I'll be sassy with you and tell you that this latest EP from the sloppy Boston popsters might be their best work yet. And did I mention that Wee Pop! Records coughed up the dough to do a 7" vinyl run? That's gotta count for something right? Right.
The songs, well the first two tracks, "Temporary Tattoo" and "Earth's Circumference," knock it out of the park and are probably my two favorite One Happy Island tracks overall.
"Temporary Tattoo" has a lilt of melancholy that will draw you into the extended metaphor of temporary tattoo-as-friends/lovers sticking together. It's a little complicated (the issue at hand), but with Rebecca Mitchell's beautifully understated voice ghosted by Brad San Martin's harmonies the song distills any silliness offered by its initial premise.
"Earth's Circumference" draws the melancholy out even further with a slightly heartbreaking tale of distance-destroying-relationships. Brad and Rebecca exchange vocals quite effortlessly while an old school Casio keyboard anchors the entire dizzying affair on, well, Earth.
"Shorthand" and "Mothball" never quite reach the same heights as the first two songs, but "Mothball" still works well as a semi-cathartic closer that ultimately is a winner due to the odd little chorus where Rebecca, Brad and friends sing,
"Do the mothball with me, Catherine/Make 'em think we did every sedative in Birmingham/Do the mothball with me, Catherine/Do just stand there/Do just stand there."
It's evocative enough to keep me wondering what exactly it means.
Secret Party That The Other Party Doesn't Know About
is a great little introduction to One Happy Island and I think with this EP this self-described sloppy DIY band from Boston has finally hit their stride in combining everything cute and sad and wonderful about pop music. Oh and did I mention that you can grab this album on vinyl?
Mp3:
One Happy Island-"Temporary Tattoo"
Links:
One Happy Island on Myspace
Order the VINYL on Wee Pop! Records