Hey folks, sorry about the mini-disappearing act, I've been busy with my potential career as filmmaker, but I am back as far as I know. Anyway onward with The Smittens!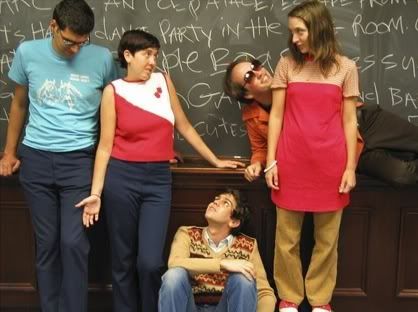 Vermont's most beloved band The Smittens has released a new album, much to the joy of lovers of Indie-Pop and Twee music, actually, much to the joy of everyone really. I usually am one to say critical writing can be done about anything, but with The Smittens'
The Coolest Thing About Love
, I don't know, I guess I'm having too much fun listening to really write out my thoughts.
With that said, they deserve heaps of praise. They have the art of melody down pat, unique and fun instrumentation, lyrics that are super sweet and more singers than you can shake a stick at.
More than anything else, I love the trifecta of singers, Colin, Dana and Max. Colin's voice is something else, may take some getting used to, but over time you'll love it. Dana has a sassy singing voice that isn't oversaturated with fake sultriness. Max just has a kick ass bass register. All three come together harmoniously on songs like "The Interstate," "Half My Heart Beats," "C'mon! (When The Grass Grows Tall And Green)," and "Gumdrops."
It's not hard to understand where the Smittens come from on
The Coolest Thing About Love
, but I'm really happy about that. They are just a collection of cool kids doing what they love and I understand now how they can create such joyous music. I mean really, if you were able to travel the roads with your friends and make people smile, how could you not write about love, love and more love?
The Smittens are a special band and that they are a band is a testament to a lot of things, notably, music really does bring people together and not just on the surface either. I'm sure all the members aren't sunshine and lollipops every second of the day, but at least on
The Coolest Thing About Love
, The Smittens channel every ounce of positive energy into a little microcosm of joy.
Mp3:
The Smittens-"C'mon! (When The Grass Grows Tall And Green)"
Links:
The Smittens on Myspace!
Order The Coolest Thing About Love on Happy Happy Birthday To Me Records