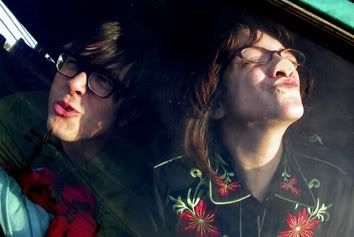 Initially I was turned off by Cars Can Be Blue's new record
Doubly Unbeatable
(Their second record on Happy Happy Birthday To Me Records). The bitterness displayed in this collection of songs is so palpable you feel like you're trekking through a swamp. Luckily Cars Can Be Blue gives you a speedboat of garage band rocking and razor sharp melodies to hurl you through the muck.
The first six tracks of
Doubly Unbeatable
are a near flawless display of Pop and Rock music in ultimate synergy. Did I mention that these songs are fueled by bitter sarcasm? Check out "Coat Tails" a song calling out second-rate bands clinging to bigger bands for the press. It even includes the necessary
Pitchfork
bashing too. I love the descending melody as Becky Ann Brooks sings,
"I don't care about that stuff/I've heard you talk and I've heard enough/blow out the candles on your birthday cake and wish yourself away/from me."
She's got a practical voice and never wastes a single breath.
On "Hope Your Hurting," Cars Can Be Blue doesn't waste anytime uttering the refrain,
"I hope your hurting now/I hope you hurt right now."
They're the kind of lines we all like singing along with no matter our disposition. Even a line like,
"I'm not saying that I hate you/Just because I can't date you,"
gets a lot of mileage because it cuts straight to the point.
Cutting straight to the point hits a ridiculously ridiculous level on the next track, "Pretty Special" when Becky calls out girls with groupie like behavior pleading with them,
"Please put that pussy down/Cuz it's been all over town/And if you don't give it a rest/Have fun checking that pregnancy test."
Ouch, pretty harsh don't you think? Though I like the way she sings the phrase,
"You get them all with your big vagina,"
so I'm just as guilty.
"Ribbon" is pretty addicting with its thrashy instrumental nature and when Becky and Nate start shouting something about
"Ribbon on your car!"
it's pure, animalistic and fun.
At this point on
Doubly Unbeatable
Cars Can Be Blue start singing about penises, calling out fat people, cheap people and even attempt at trying to sell us merch. "Seems We're Breakin' Up" wraps things up nicely and puts a smart perspective on the entire album, or the band anyway.
The first half of
Doubly Unbeatable
is pure gold and even if its bitter sarcasm isn't your cup of tea, trust me it will be when you press play. There is something to be said about carrying this kind of manic energy and bitter sarcasm I just hope for Becky and Nate's sake that they aren't stewing in this stuff when sitting at home. It certainly can't get out of my head.
Mp3:
Cars Can Be Blue-"Hope Your Hurting"
Links:
Cars Can Be Blue on Myspace!
Buy Doubly Unbeatable on Happy Happy Birthday To Me Records