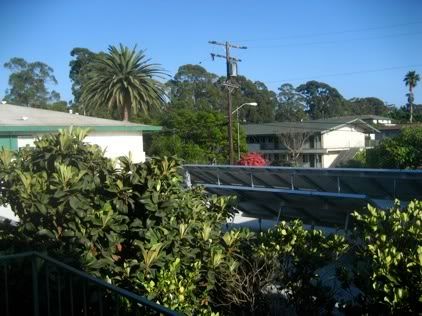 View from The Studio, my venue of residence in Isla Vista, California.
Hey kids I'm back in good ol' Santa Barbara and maybe, just maybe I can get back on a regular schedule. Then again was this blog ever on a regular schedule?
Foggy Ruins Of Time
is now a year old (actually a few days ago, but still)! I remember being inspired by so many blogs out there who sadly aren't with us anymore. But, I shall carry on the torch and continue bringing you faithful readers the most in-depth reviews of DIY music, Lo-Fi music and anything else that comes my way. Thank you all for making this something fulfilling and a necessary part of my day. I am a better writer because of it. Not to mention all of the great music discovered and friendships made.
Let's finish up that poll from a zillion years ago: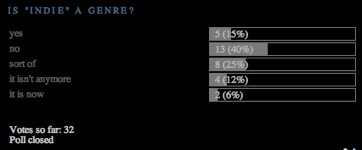 It makes me happy that a majority of you readers said that "Indie" isn't a genre. For those who said "yes," what are the qualities of the "Indie" genre? For those who said "Not anymore," I really want to know what that means.
So what's on the plate in the next few weeks? For album reviews:
Patrick Ripoll's
Spawning
The Smittens:
The Coolest Thing About Love
Hotpants Romance:
It's A Heatwave
Plus a slew of Wee Pop! Records releases. Damn it's hard to keep up with Thor and Camila's impressive output these days. Just too many good bands including secondary releases by One Happy Island and The Just Joans as well as the debut record of Let's Whisper. I know you all can't wait.
Also I will probably be ready soon to write my review for Christopher Nolan's
The Dark Knight
, this summer's other masterpiece.
But the biggest news of all is I have two interviews in the works, that's right, two! Marc With A C was kind enough to answer my questions and give us some food for thought and some terrific insights into many many things. The second interview is a dual interview between Star Dell'Era of The Elated Sob Story fame and me (as my music moniker Existential Hero). What's even better is that it is a video interview. Exciting? You bet it is…
Oh and a new layout soon!
Mp3:
The Roots-"Birthday Girl"
Links:
Marc With A C on Myspace!
The Elated Sob Story on Myspace!
Existential Hero on Myspace!