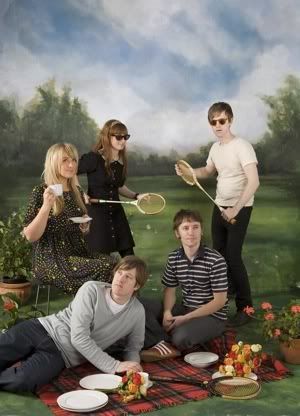 My internal clock is all messed up. Three different countries and four different time zones in less than two months is not good for the body and I'm confused at what time, day, month, season it is right now. Luckily Melbourne's Summer Cats have come along to rescue me from my circadian rhythm woes with their new Wee Pop! Records EP,
Passion Pop
.
Summer Cats deliver the pop chops like no other and the first song on
Passion Pop
, "Burt Toast," has an awesome Cure-like bass line that bounces along while call-and-response vocals chant above and even a little cowbell gets in on the action.
"Head To Toe" has haunting little melody that sounds like a Hawaiian sunset, no ukulele, hammock or piña colada required…
I'm going to say that the lyrics aren't the focus on
Passion Pop
and that may sound like a putdown coming from me, but really, I've been blasting this album in the car with the windows rolled down and nothing sounds better than the "ooos" and "ahhsss" and "weeooooos."
To keep it simple, Summer Cats'
Passion Pop
offers up what Wee Pop! Records do best, sweet music to sing along to and enjoy repeatedly. Summer really begins now.
Mp3:
Summer Cats-"Head To Toe"
Links:
Summer Cats on Myspace!
Wee Pop! Records site