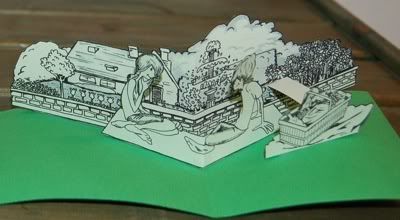 The first in a slew of brand new Wee Pop! Records releases I'll be catching up on,
Spring Forward: A Wee Pop-Up Compilation
is an adorable little release and the first various artists album put out by Thor and Camila. Yes, it isn't spring anymore, but with my schedule I missed spring somewhere between Wellington and Tokyo so I'm in the clear. Besides what better way is there to catch up on a season than to listen to a compilation of finely crafted pop so delicious you'll get diabetes.
Spring Forward
features all brand new artists to the Wee Pop! label and one veteran. I find it hard to talk about it as a whole album, but really it's a just a packet of sugary fun with melodies aimed to kill (or make babies).
Take for example the first track, "Spring Forward, Fall Over," by The Deidres, this glorious number feels akin to an opener like "Sgt. Pepper's Lonely Heart Club Band," horns blazing, harmonies completely on fire and intentions exquisitely stated.
The next track, another favorite, "A Wonderful Year," by Let's Whisper is beautiful pop music done right. Simple, unpretentious delivery with a bit of marimba and light harmonies, the song captures so sweetly the feelings of those little epiphanies that make your heart swell. Nothing feels better than this.
I was a little disappointed by Little My's entry, "Jumpers Back On," because it feels a little too busy and downtrodden compared to the rest of the album. It's a forgivable misstep as they have two wonderful Wee Pop! releases already in the can.
Previously I had written off The Hi-Life Companion as a poor man's Shins, but I was so pleasantly surprised to hear their closer to
Spring Forward
, "Take A Leap At The Sun." Beach Boys on an epic scale, this song propels the entire album and your body into summertime. This is the kind of music that plays as the credits begin to role in your favorite feel good movie.
Spring Forward: A Wee Pop-Up Compilation
is just short of being a revolutionary pop comp that nevertheless rewards us with many new nuances in the pop scene only a record label such as Wee Pop! could deliver.
Mp3:
Let's Whisper-"A Wonderful Year"
Links:
Wee Pop! Records site
The Deirdres on Myspace!
Let's Whisper on Myspace!
The Hi-Life Companion on Myspace!
Little My on Myspace!