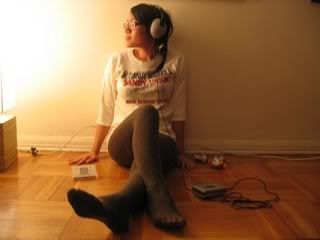 The Wee Pop! release of Wonder For All's debut self-titled EP is probably the barest album in their entire catalogue and even if it may seem a little undercooked, Wonder For All serves up a refreshingly intimate collection of songs amongst all the danceable and more orchestrated pop as of late.
Running less than seven minutes,
Wonder For All
features a girl named Wendy and a ukulele plinking away various musings about love and more. She sings somewhere between a squeak and a hush, as if we are just sitting with her in her bedroom or sitting in the grass on a nice day.
I wouldn't call these songs "confessional" or label them something silly like "bedroom pop," they are more organic than that. This is the kind of stuff a friend would sing to you on a lazy afternoon while you should be studying instead. Songs like "Be Alright" and "Dream Dreamy" are barely songs in themselves, more like sweet musings, borrowing classic ukulele chord progressions to stimulate ideas and to distract from more important but less fun duties.
The song "Can't Say It" is probably the closest thing I'd call to a song here, a cover no less, and Wendy's voice really shines giving us a sweet dose of insecurity that sells it's sincerity quite well more than any of the last few Wee Pop! releases.
For as short as
Wonder For All
is, there is a surprising amount of diversity and I think that is due to the casual nature of the delivery. I wouldn't mistake this for laziness or amateur or even half-baked, Wonder For All has delivered a record that rewards listeners like any stimulating conversation can or good times with good friends. It is a moment in time and a wonderful one at that.
Mp3:
Wonder For All-"Dream Dreamy"
Links:
Wee Pop! Records site
Wonder For All on Myspace!