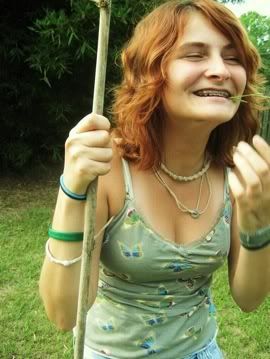 Hey folks still in Tokyo and amongst all the J-Pop and Hip Hop my new friend Grace, musically known as Linguistic Banner, has put up her first song on Myspace and let me tell you kids it's pretty darn fantastic.
Simply a soprano ukulele and rough, soulful (but young) voice, Grace sings a song that drips with a lot of nostalgia for someone who's fifteen.
I hate bringing in the age thing because unlike a lot of young musicians who play the ukulele or guitar she isn't angsty or "cute." I like "This (old) House" because it avoids all of the stereotypes that you could possibly tag her as being.
It isn't to say she is purposely avoiding these categories and feelings, but "This (old) House" is simply breezy without being cutesy, unassuming yet fueled with purpose, and melancholy without being heavy or angsty.
It's startling how original it sounds after a couple of listens, but I've listened to it more than that and you should too.
I can't wait for more.
Mp3:
Linguistic Banter-"This (old) House"
Link:
Linguistic Banter on Myspace!