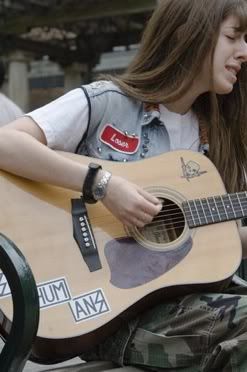 I don't spend a lot of time listening to accusatory music. Who knows, maybe it is because I could be one of the accused. So when I first heard Everyone Except Me's (a moniker for New Jersey's Michelle Antisocial) second EP on ACOSM Records,
Sidewalks
, I was a bit turned off.
"iPod Ears" being the prime example of a sort of self-righteousness that is on the same coin as the type of people Michelle is singing against. I've been listening to Everyone Except Me on my iPod, what does that say about me?
Maybe I'm being grumpy, but it's been difficult trying to tackle this record. Reading more about Michelle and listening to the songs over and over I have started to get a better feel for where she's coming from. And it's understandable to want to rail against
the man
, but things are a bit more complex than making generalizations about men in suits, rich kids, etc.
Sidewalks
comes off best when she turns the guns on herself as on "Don't Feed The Hobos." More nuanced and subtle, this tale of the street is humorous/ironic and it allows Michelle's lovely voice to shine.
And that's the thing,
Sidewalks
is a wonderful record, Michelle's voice is something unexpected in the folk-punk world and it's a nice change of pace than usual gruff shouters. On "The Preacher And The Slave" Michelle and I align in our hatred towards organized religion in a hilarious manner as she shouts with a chorus, "You'll get pie in the sky when you die/That's a lie!"
My disillusionment with the whole protest/activist movement has kind of colored my experiences when I first approached Everyone Except Me's
Sidewalks
, but really, don't let my old man politics get in the way of a wonderfully sincere album that'll get the blood boiling and the fist pumping.
Mp3:
Everyone Except Me-"The Preacher And The Slave"
Links:
Everyone Except Me on Myspace!
Order Sidewalks from ACOSM Records today!