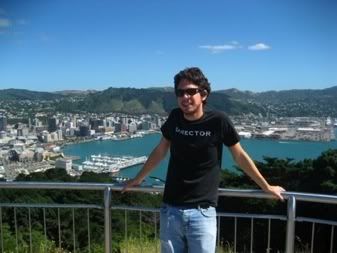 This foto is kind of misleading, weather-wise.
As my time in New Zealand comes to an end (literally I'm on a plane in less than six hours) I wanted to share with you all a mix of songs that best exemplified my time in the capitol city of Wellington.
Wellington is often described as a miniature version of San Francisco and even though I hate making those kinds of comparisons it is a relevant starting point. Extremely hilly, compact, windier than anything I could have imagined Wellington has its charms as being a hyper-cultured town that relishes in coffee and cigarettes by day and bars and cinema by night.
Some of you know that I haven't had the best time here and coming from the suburbs to the big city was probably the hardest adjustment for me personally, harder than I could have anticipated. Sadly I don't have the best memories of
living
in Wellington, but if you are touring New Zealand is worth a few days stay.
Flight Of The Conchords-"Inner City Pressure"
New Zealand's own 4th greatest Folk parody Duo, Bret and Jemaine get their Pet Shop Boys on in this hilarious take on hard times in the city.
Bob Dylan-"Hard Times In New York Town"
Even though 'ol Bobby D was singing about a different city, the things he's singing about held true for how I felt coming into Wellington. Smart, sassy, a little funky and very observant, it's a shame this wasn't on his first album.
Bright Eyes-"The City Has Sex"
I admit I've been a little angsty and this early Bright Eyes kind of describes the later stages of my time here.
The Carpenters-"Rainy Days And Mondays"
I love Karen Carpenter and if this song isn't the blues I don't know what is anymore. Wellington doesn't have the best weather so this tended to be pretty accurate.
Howard Shore-"The Passing of the Elves"
What is a Wellington mix without at least one
Lord Of The Rings
mention? This one fit the more serene qualities I felt while at the top of Mt. Victoria and in the forest surrounding it.
Casiotone For The Painfully Alone-"Toby take a bow"
After some initial disappointments this song became kind of a mantra. I feel stupid about it now, but this song really encapsulates the worst aspects of my experience.
The Diggs -"Careen"
I listened to this song a lot when I was roaming the city. I don't really know what it means particularly, but it just matched my surroundings.
Scarlett Johansson-"Anywhere I Lay My Head"
Wellington has been my only home for the past five months and since I don't have a room at either my mom or dad's places I shuffle everything with me from apartment to apartment. I love Scarlett's version because the atmosphere fits Wellington better than the New Orleans-esque original by Tom Waits.
Prince Edward Island -"I've Been To A City"
Lush, dizzying and somewhat harmonious this song by Prince Edward Island kind of captures my first impressions and immersion when I first stepped off the train in Wellington, sublime, beautiful and somewhat terrifying.
The Jesus And Mary Chain -"Just Like Honey"
Lost In Translation
is sort of an existential shortcut for how my experience has been and this Jesus And Mary Chain song was in my head as soon as I even thought about coming here.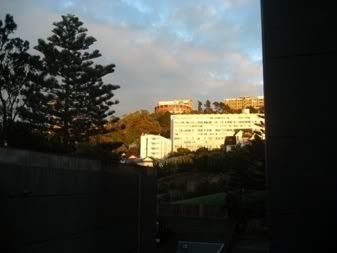 The view from my flat
Wellington is certainly a beautiful and slightly puzzling city that really caught me off guard. Even if I won't look on this place as fondly as I wanted to I know I can't forget it.
Links:
Wellington City site
Flight Of The Conchords on Myspace!
Bob Dylan site
Bright Eyes on Myspace!
The Carpenters on Wikipedia
HowardShore.com
Casiotone For The Painfully Alone on Myspace!
The Diggs on Myspace!
Scarlett Johansson on Myspace!
Prince Edward Island on Myspace!
The Jesus And Mary Chain on Myspace!