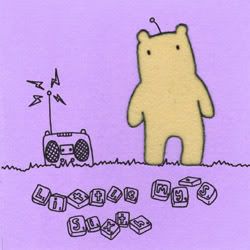 More cuteness awaits inside the liner notes
I was relatively less stressed out when I approached Little My's new EP
Little My's Sixth
than the last
time
. This is Wee Pop! Records first artist to have a second release on their wonderful little label and if anything Little My (from the UK as well no less) is a good representation of what Wee Pop! stands for.
As much as I enjoyed
Little My's Third
, it felt a bit transparent, all fun and little feeling. Well I was happy to be taken aback with the first wash of slide guitar on "All But The Beeps Meep." Featuring classic handclaps and Lo-Fi keyboards, hushed boy/girl vocals, it is the slide guitar that really adds something else to this song and gets hips shakin' and hearts quakin'. Plus the song title is fucking adorable.
"Ruining Things Like Everything" has a mimic-inducing electric guitar and layered vocals that underscore the handclaps even more for such a seemingly relaxed song. By the end I wish I were in the band or at least at a live show so I could dance this one out. I bet it's killer live.
As "Kicking People On Pavements" revs up I'd say it's Twee on cocaine by its conclusion. And well…really that is all you need to know. Then "Excuse Me, It's Springtime!" ends
Little My's Sixth
nicely with a bit of positive acapella vibes and "La la las."
For how twee-sterious Little My seem, on
Little My's Sixth
they use their cuteness and pop sensibilities to hit a real emotional center that is very satisfying and sweet.
Mp3:
Little My-"All But The Beeps Meep"
Oh and Wee Pop! Records is turning ONE!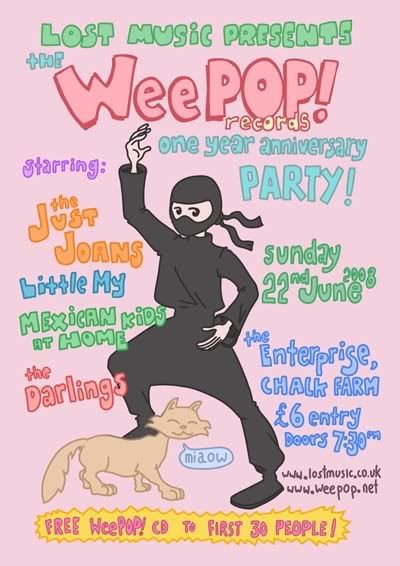 If you are anywhere in the UK, definitely make the trek to see all these great bands (including Little My!) and say hello to Camila and Thor for me! I so wish I had the TARDIS to make my way to London right now.
Links:
Little My on Myspace!
Little My's twee-sterious site
Wee Pop! Records
More details on the June 22nd show!