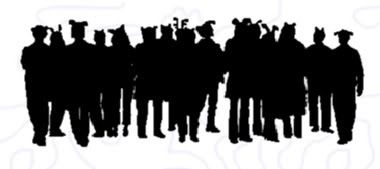 Little My is an elusive pop band made up of eight to fifteen people from the UK. When it came time to review this EP (released on Wee Pop! Records) I started stressing out because I didn't know any of the songs that Little My covered, but then after racing around on the internet for too long I realized it doesn't really matter. Little My's new EP
Little My's Third
is a collection of four cover songs that are fun and have much to offer regardless if you've heard the originals. "Monsterpuss" fits the very awesome cartoon theme the band has going on (Check out their website for all kinds of cute characters). The song is a great energetic opener and I give bonus points for the awesome pan flute. The lyrics are a bit disturbing in a humorous way, but don't let that prevent you from bouncing around to it. "Heavy Heart" has some awesome vibraphone, xylophone and vocoder action that accent this tender song. Oh and did I mention the hand claps? This band has it all. The one song I had heard the original previously is "New Slang" by The Shins. Little My's version is of course a bit livelier and gives it a more sing-along quality that the original doesn't have.
Little My's Third
provide a strong case for André Bazin's theory that multiple utterances of the same thing are equal. It is a fun little EP of songs that will have you smiling no matter where they came from.
Mp3:
Little My-"Monsterpuss"
Links:
Little My on myspace
Little My's site that adds to the mystery
Wee Pop! Records
André Bazin on Wikipedia