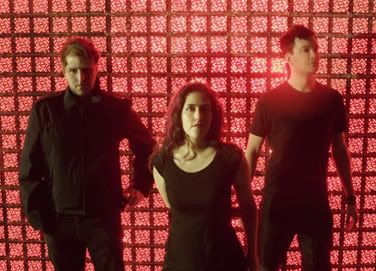 Freezepop is Liz Enthusiasm, the Duke of Pannekoeken, and the Other Sean T. Drinkwater, a synthpop band from Boston, Massachusetts that has been making music for over eight years under the radar except when being featured in video games. Their third full length album
Future Future Future Perfect
comes out at the height of the popularity of the videogame
Guitar Hero
in which their song "Less Talk More Rokk" features. I'm going to be a music snob and tell you all that I've been listening to them for a long time now, but the popularity of the game will bring them the success they deserve.
Future Future Future Perfect
contains some of Freezepop's most tender moments. "Thought Balloon," is a sweet song that we can all understand. Liz sings, "Sometimes I get so tongue tied/thoughts can weigh me down/my balloon dips closer to the ground/I'm hoping that you catch my drift/give my balloon a little lift." It is in those moments of utter uncertainty and nervousness that make us know something special is about to happen. If we only have the confidence, "I'll have my say and then my thought balloon can float away." The second to last song, "Swimming Pool" ranks up high with "Outer Space" and "Starlight" as one of Freezepop's most moving moments. Quiet beats slowly build while Liz's halting voice describes an intimate event that is immediately palpable. There is a false fade out into the deep, but then everything slowly fades back in until the finale echoes out, "Everything is perfect now," over and over until it's certain in our mind and heart. Don't let me forgot that one of the great things about Freezepop is their ability to get you jumpin' and dancin'. "Brainpower" is a more rock-influenced number and Liz's voice takes on a more commanding quality while the song does its thing and ends before you've even caught your breath. "Do You Like My Wang?" has The Duke on vocals carrying on an innuendo joke about his penis, but placing it in the nerd/geek context using Wang brand computers as the metaphor. Halfway through, the song goes nuts and starts sounding like a techno version of
Phantom of The Opera
. The Duke is truly a madman.
Future Future Future Perfect
will certainly be the breakthrough album for Freezepop. It contains a higher quality of production and is a bit darker than before but is no less nerdy, danceable and moving than their previous efforts. Maybe even more so.
Mp3:
Freezpop-"Thought Balloon"
Music Video for "Less Talk More Rokk"
Links:
Freezepop.com
Freezepop on myspace
Legendary Frog, a flash cartoon site where I was first exposed to Freezepop.