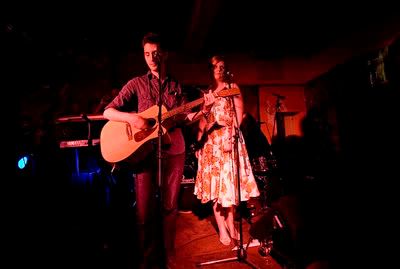 Virgin Lips
the new EP from The Just Joans, "self-confessed losers from Motherwell," lives up to its promise as an ode to teenage angst and longing. The opener "Virgin Lips" is a carnivalistic teasing about a girl trying to prove she's "loved" someone. When we were youngsters we all desperately tried to think we were mature physically with others and this song embodies the type of anxieties we all had rather humorously. A song like "Lookin' Like Rain" is a perfect example of something we would write after a break up championing the ironies that we so often look too hard for. This is exemplified by the hook, "She said 'let's go for a walk'/Cuz she said that 'We needed to talk'/ So I said 'I'll just get my coat cuz its lookin' like rain'/ I didn't know right I was." The somber piano illuminates the mood, but it also points how melodramatic we were (and can still be). The cover of The Cure's "Pictures of You" is played beautifully and straight. It's slower, placing emphasis on the lyrics reflecting how we all take songs and make them about ourselves. Using The
Rugrats
theme as the basis for "These Boots Are Made For Stalking" is another clever nod to the childish angst we experience growing up especially when we get obsessive about someone (Check out the hilarious and relatable stalking story in the liner notes). The Just Joans
Virgin Lips
is a humorous and honest homage to all the people whose love lives are not always the most successful. This album exemplifies all the times when we failed in love and that meant the entire world was ending.
Mp3:
The Just Joans-"Lookin' Like Rain"
Music Video for "Lookin' Like Rain"
Links:
The Just Joans on myspace
Wee Pop! Records