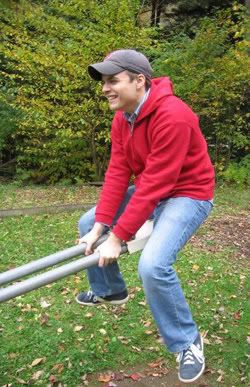 I realize now that Desmond Reed was only getting started when he released the
Guinea Pigs EP
a few months ago. His newest release on cass_et_tape_records,
The Baby-Sitters Club EP
still features just Desmond and a guitar, but the hooks have never been so sweet and the lyrics so genuine. The first song "The Baby-Sitters Club" finds Desmond more thankful professing his love for this new circle of friends, even calling them on the phone because he has too much homework! "When I Met Michelle" is perfect. I feel like I could have written a song like this when I first got a girlfriend. Never has someone captured so sublimely the excitement of a nerdy kid's first gal like when Desmond sings, "But I'm not the type of guy that immediately tries/ I look before I leap/ but then don't leap because I'm shy/ and that's why/ I was terrified/ back when I met Michelle." He even refers to his favorite super heroes regarding their relationship (I did a
Lord of the Rings
comparison with my first relationship). "When I Met Michelle" is my song and probably some of you out there will claim it too. "Cabin Fever" is so hilariously self-deprecating that it makes Kevin Smith look like Charles Foster Kane. He knows it too. How can we not laugh, yet relate to lines like, "I hope nobody asks me what's up/ I won't have anything to say/ except to say I pretty much suck." Desmond Reed's
The Baby-Sitters Club EP
is another quick shot of lo-fi bedroom pop that'll win you over with its genuine hooks and big heart.
Desmond Reed-"When I Met Michelle"
Desmond Reed on myspace
The cass_et_tape_records site
Buy The Baby-Sitters Club EP Here!
My review of the Guinea Pigs EP