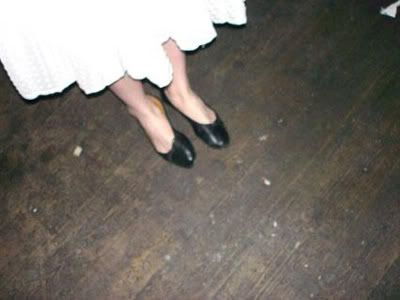 I'm in love with The Darlings. I'll get that out now. When I first heard the songs off their myspace, the mail couldn't come fast enough. They are a five-piece band from London lead by Elizabeth Darling and their first release,
Photo EP
is out now on the ever so amazing Wee Pop! Records. With every CD there is a different picture, so each package is unique! These photos were taken during Elizabeth's travels and I got picture of women attempting to use a purple tent as a blanket. What will you get? The first song , "Anything You Want" describes someone who gives so much love to another due to the beauty surrounding them. She sings confidently, "And In my head I hear music/And its glorious music/All my love is with me/And we disappear into the sea," and we float around in that environment blissfully. "Emily" is pure, addictive and hilarious. I haven't laughed as much listening to song in awhile. Sort-of a revenge at the girl next in line, it's too funny to be offended by yet wittingly perfect. The ukulele strums along sharply and the strutting bass line carries us through, but its Elizabeth's lyrics that penetrate the most as she ends on, "He won't love you baby/he's got no more love to spend/He tells me you are fine/But I'm better than him at lying." The last song on the EP is a cover of AC/DC's "You Shook Me All Night Long," but I didn't even realize until the chorus kicked in. It totally takes a new dimension in the hands of The Darlings. Consisting of Elizabeth's voice (With some aid on back up vocals) and an insistent and pretty ukulele, this song becomes more intimate, barer and more poignant. The idea of being "shook" hasn't been this physical since Elvis used it. Probably my favorite release from Wee Pop! Records so far, The Darlings
Photo EP
will soothe you, make you laugh, smile and shake you until you're thoroughly hooked.
Mp3:
The Darlings-"Emily"
Links:
The Darlings on myspace
Wee Pop! Records