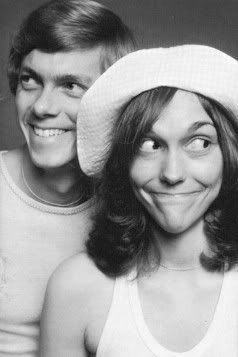 The Carpenters were a brother & sister duo from the late 70s/early 80s who made a name for themselves doing soft-rock/easy listening music. Karen Carpenter, the lead singer, had an extremely unique voice that carried listeners, "smoothly into the 80s". Unlike many popular groups at the time, The Carpenters were considered very wholesome. However, everything was not right with Karen and she was the first person to die of Anorexia Nervosa. I first discovered The Carpenters music after watching Todd Haynes first film,
Superstar The Karen Carpenter Story
(1987). It is a startling and tragic look at the life of a beautiful woman destroyed by familial and social pressures.
"All You Get From Love Is A Love Song" was the first single off their 1977 album
Passage
and is a phenomenally clever and sad song disguised as a pop hit. I mean just look at the hook; "Oh it's a dirty old shame/When all you get from love is a love song/That's got you layin' up nights/Just waitin' for the music to start//It's such a dirty old shame/When you got to take the blame for a love song/Because the best love songs are written/With a broken heart." I believe most writers and creative types in general can relate to this on an instinctive level and this song is so rewarding, but so dark. It is as if Kurt Vonnegut himself couldn't come up with something so perfect.
Mp3:
The Carpenters-"All You Get From Love Is A Love Song"
Music Video:
Links:
The Carpenters on wikipedia
The Entire short film, Superstar The Karen Carpenter Story