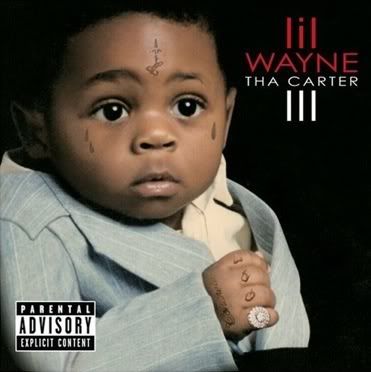 I am probably one of the least qualified critics to talk about Rap and Hip hop much less Lil Wayne, but lately I've discovered some amazing rappers, singers and producers in these genres and I'm excited to be exploring this new territory (Like when I discovered Dylan or Lo-Fi music).
Lil Wayne, the hardest working rapper in Hip hop today, is called by some (including himself) to be the greatest rapper alive and on
Tha Carter III
he gets pretty damn close to proving it, but he doesn't need anyone's confirmation anyway right?
I've read (as far as I know) almost every early review of
Tha Carter III
and the consensus is so totally "fucked up" I cannot really find a reference point to know what is considered "great," "good," or "bad" about this album. It's all over the map and as such my favorites will be different from others out there (just as every reviewers favorites are as well).
Lil Wayne refuses to be pegged down and that may be why
Tha Carter III
is completely and utterly scatterbrained, surreal and anti-climatic. Instead of closing with the brilliantly Kanye West produced, "Let The Beat Build," Weezy ends on a not-so-completely self-indulgent but fascinating rant, "DontGetIt (Misunderstood)," on everything from crack cocaine handling laws to sex offenders to Al Sharpton. He's completely postmodern in his deconstruction of the album format. Hell, there are probably a dozen different track lists out there right now anyway.
Take for example, the opener "3Peat," sure it opens with all kinds of declarations about how great he is and how this album is going to be great, but really it's a slow burning track filled with strings and a melancholy synth line. He nearly breaks down completely by the end, wrenching his voice. And then "Mr. Carter" comes next which could work classically as an opener, featuring Jay-Z, but, it isn't because it's too cathartic to be an opener and is contextualized here as more of a lyrical Sunday. It's two big rappers mediating and responding to their own success. Plus it has one of my favorite sets of lines on the album with Weezy declaring:
"Man, I got Summer hating on me cause I'm hotter than the sun
Got Spring hating on me cause I ain't never sprung
Winter hating on me cause I'm colder than ya'll
And I would never, I would never, I would never Fall
I'm being hated on by the seasons
So fuck ya'll who hating for no reason!"
The sheer diversity on
Tha Carter III
is astonishing. From the club bangers like "Got Money" (Featuring who else but T-Pain) and "Lollipop" to serious mediators like "Tie My Hands" and "Shoot Me Down" to just plain bizarre with "Phone Home" (Read, "I am a Martian") and the David Banner produced "La La."
The hit single "Lollipop," is such a strange, but perfect song. It exemplifies everything subversive and crazy about Lil Wayne and
Tha Carter III
. On the surface it appears to be a traditional Hip hop fluff song with a nice hook and even a references other fun Hip hop songs. It even has the recently popular Auto-tune effect, which I fucking love, but the way he uses it is completely different than the way say, someone like T-Pain or Chris Brown uses it. It isn't smooth; it enhances the quirkiness and originality of Weezy's voice. The material itself is extremely sexual, but not in the way that most Hip hop songs present themselves. Lil Wayne isn't singing machismo sexual colloquialisms; the words are intense, intimate, devoid of bragging/"playing to the crowd." I'm not saying he's singing about true love either, but "Lollipop" is much less sexist and degrading than say the Sisqó's "Thong Song." Also the fact that the only guest on the song, Static Major (R.I.P), died two weeks before the song was released adds another strange element, completely unexpected. Oh and on the video version of the song, Lil Wayne plays guitar. Far out.
In the end what I like most about Lil Wayne is his playfulness. In songs you can hear him constantly laughing, giggling, cracking up, he lives and breathes music and is having such a joyous time doing what he does best.
Tha Carter III
might throw people all out of sorts, but if you can't accept that you just ain't having any fun.
"Lollipop" video:
Mp3:
Lil Wayne-"Let The Beat Build"
Link:
Lil Wayne on Myspace!