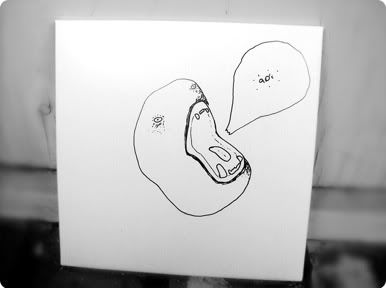 Put together by CLLCT's Secret Chief (Luke!), better known by most as Secret Owl Society, this Lo-Fi compilation,
The Roaring Nineties
, covering the greatest hits of the 90s, is like most compilations, brimming with some amazing songs, some good and some bad. To keep this two-disc, twenty-six track beast at bay, I'll just describe some of my favorites and mention a few others.
The Brooke (a tiny ocean) has graced us with two (that's right) two awesome covers, her cover of Oasis's "Wonderwall" being my favorite. Just an acoustic guitar and her dream-like voice, she manages to recontextualize this song, not in its sound or delivery, but in its emotional impact. It hits almost ten times harder than it did originally.
Shelby Sifers, along with help from the Sarcastic Dharma Society, cover Del Amitri's "Roll To Me" a song I remember instantly, but don't ever recall the original band's name (or even the song title). Shelby manages to cover some new ground, articulating her voice in ways that sound more down-to-earth than ever before. It's sweet and gives us a glimpse into an alternate universe where she would be selling millions of albums and the world was a better place.
Tinyfolk's cover of the Elton John classic from the hit Disney film
The Lion King
, "Can You Feel The Love Tonight," starts off a bit slow, but the Usher-influenced ending is totally perfect. If you like
Bill
and
Valley Forge
era Tinyfolk, this is a good reflection of that style with a hip-hop twist.
Dustin And The Furniture's take on Third Eye Blind's "Semi-Charmed Life" was probably my most anticipated cover on
The Roaring Nineties
and it is everything I hoped it would be and more. It is acapella, focusing solely on Dustin's "sleepy brown bear" voice. What more could you want?
Uggamugga's acoustic cover of "Wannabe" by The Spice Girls is so hilariously cute. Sung
almost
off key and featuring boy/girl vocals, there is something so infectious happening here.
Fudge's almost acapella cover of the Red Hot Chili Pepper's "Suck My Kiss" is so ridiculous you have to love it. Featuring a chorus of kazoos, handclaps and vocal sound effects, it reminds me of Weird Al Yankovic at his most insane.
Perhaps the most stunning cover is SFIAS with The Anchorites' cover of Donna Lewis's only hit, "Love You Always Forever." Essentially a wall of noise, they only hint at the melody lying deep within the chaos. It is beautiful, heartbreaking and sublime.
Now I'm sad to say that both of Patrick Ripoll's covers didn't do much for me, although the first bit of "How's It Gonna Be (originally by Third Eye Blind)" is actually quite cool and very different for Patrick, it sort of teeters off aimlessly. I do like the nice use of the Amen Break though.
Both Fire Island, AK covers are a bit dreary and I wanted to like Manipulator Alligator's cover of TLC's "Waterfalls" more than I did.
But, I can see what some of the artists were doing here. Some were trying to take these glaring monuments of mainstream ideology and turn them into what they are, manufactured dribble. I think that's taking the easy route. Many of these songs, no matter how manufactured still spoke to us and the best covers here are ones that reflect the deep loving or enjoyment we had of these songs back when we were growing up.
Sold to raise money to help maintain CLLCT, the amazing community of artists and musicians that ALL OF YOU should be a part of, it is now available to download for free! Enjoy!
The Roaring Nineties
Links:
The Brooke (a tiny ocean)'s site
Shelby Sifers on Myspace!
Tinyfolk on Myspace!
Dustin And The Furniture on Myspace!
Uggamugga on Myspace!
SFIAS on Last.fm!
*anyone know anything about Fudge? I can't seem to find anything on them.