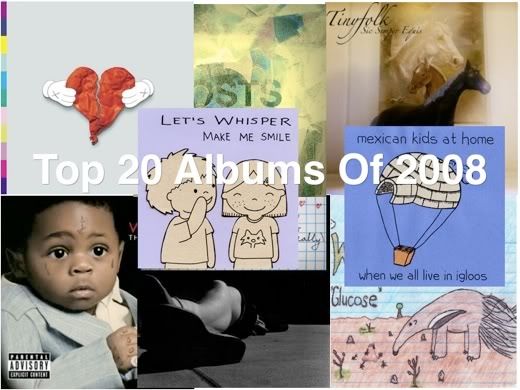 This year in music was more confusing than ever, but there were a few key things I latched onto. As the quiet folk stylings grew stale to me this vacuum imploded and hip-hop emerged on top as some of my most listened music of 2008. I cannot say that this year was better for hip-hop than other years, but this year I was just paying more attention.
The confidence on display in hip-hop spoke to me. The swagger and the hustle of some of these artists inspired me in many ways because they knew that in order to be successful you have to be willing to work harder than everyone else.
But we are here to talk about music right?
This year more than any other year I chose albums that I really listened to most often. Sure there were albums I thought were better, but what difference does it make if I'm not putting them on repeat? If they aren't getting stuck in my head? If they aren't inspiring me?
So my top twenty albums of 2008 aren't necessarily the best of 2008, but they are the albums that pulled their weight…into my heart…yeah.
1-10 (In Alphabetical Order):
Chris Zabriskie-
O Great Queen Electric, What Do You Have Waiting For Me?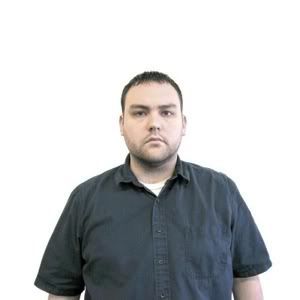 A quite record that occasionally bursts at the seams, Chris Zabriskie's first record of 2008,
O Great Queen Electric, What Do You Have Waiting For Me?
is unbelievably tender, contemplative and pervasive. I am constantly humming the melodies and musing over things that Zabriskie sings about. It is a beautiful exercise in minimalism, one of the very best of its kind.
Key Tracks:
"I'm On A Talk Show"
"God's Will"
"Psycho II"
Chris Zabriskie on Myspace
Original review
Existential Hero-
The Great Sublime Melancholy!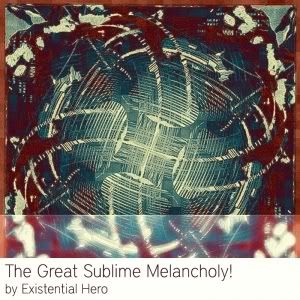 Those who know me and read this blog know I am not shy at all about tooting my horn (that's what she said). This is why I am not ashamed to think that
The Great Sublime Melancholy!
, an album I wrote and recorded while traveling in New Zealand, is one of the very best records of 2008. I also wouldn't place this up here if I didn't listen to it constantly and know that others listen to it also on a regular basis. I feel like it's my most holistic work to date and truly captures a particular mood, time and place like no other. Take this for what you will.
Key Tracks:
"I Dream Of Antarctica"
"Until The Very Last Moment"
"Meant To Carry Me Along"
Existential Hero on Myspace
Gang Of Virgins-
Virgins?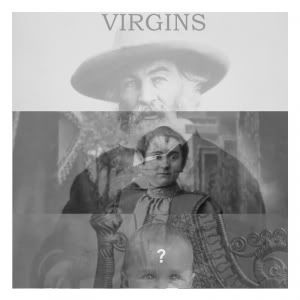 This is the kind of record that makes me believe in psychedelia again. Rob and Max literally fuck shit up and create a hazy mirror to reflect our modern society.
Virgins?
is a funhouse mirror that only shows us the nightmares and fleeting moments of bliss. Although Rob's poetry can overwhelm me I try and shout along no less. It's a rallying cry for the sick and neurotic, the hopeless and toxic.
Key Tracks:
"Aubrey De Grey"
"Cocaine"
"Rot Gut"
Gang Of Virgins on Myspace
Kanye West-
808s & Heartbreak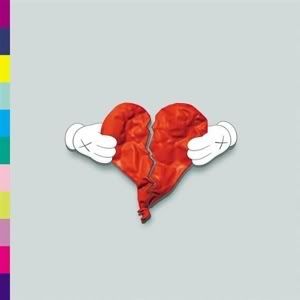 Even with Obama's presidential victory and a renewed faith in hope, some people were still depressed. Kanye West beat emo at its own game and emerged victorious with one of the best records of 2008,
808s & Heartbreak
. His mother died and his fiancé left him, why would anyone want to party? Regardless of logic or reason, sometimes we still feel like shit. Translate this into some of West's catchiest beats and an arsenal of auto-tuned cries. One of hip-hop's bleakest affairs in recent memory,
808s & Heartbreak
is a stunning album that only gets more and more nuanced and true with time.
Key Tracks:
"Welcome To Heartbreak (Feat. Kid Cudi)"
"Amazing (Ft. Young Jeezy)"
"Robocop"
Kanye West site
Lil Wayne-
Tha Carter III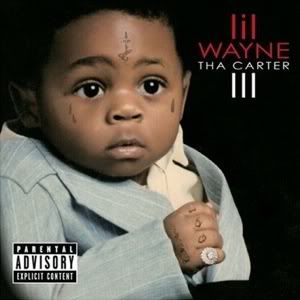 As most people consistently state, Lil Wayne is force of nature, a black hole where empirical modes of thinking are useless.
Tha Carter III
proves that Weezy Baby rides the spectrum of brilliant to ridiculously absurd. Is he the greatest rapper alive? If you are listening to him while pondering that question the relentless assault of images, sensations and jokes will beat you into submission screaming, "You are indeed the greatest rapper alive!"
Key Tracks:
"Mr. Carter (Ft. Jay-Z)"
"Lollipop (Ft. Static Major)"
"Let The Beat Build"
Lil Wayne site
Original review
Scarlett Johansson-
Anywhere I Lay My Head
Down in the Louisiana bayou, in a hazy fog of swamps and moonshine arises the beautiful Scarlett Johansson uttering the gospel according to Tom Waits. David Sitek captures the whole affair in
Anywhere I Lay My Head
. So full of atmosphere, Johansson's husky vocals ghosting in and out of the fog, the experience is slightly ethereal and pretty drunk. Throw down your misconceptions and dive into the murky water.
Key Tracks:
"Town With No Cheer"
"Anywhere I Lay My Head"
"I Wish I Was In New Orleans"
Scarlett Johansson on Myspace
Secret Owl Society-
Ghosts Of Children Past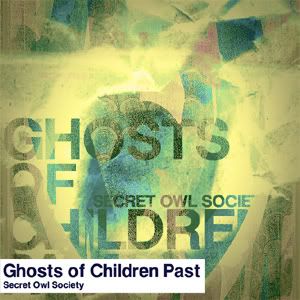 Secret Owl Society has crafted an album of dreams. Entering
Ghosts Of Children
is like getting all your senses rewired; new smells, tastes, sights and sounds emerge. There is something terrifying at work here and only when you've fully committed does this become apparent. The dreams become a nightmare, but there is solace in despair. It is liberating to be swallowed whole.
Key Tracks:
"Monochromatic World"
"RAF"
"If Only They Could Turn Around"
Secret Owl Society on Myspace
Tinyfolk-
Sic Semper Equis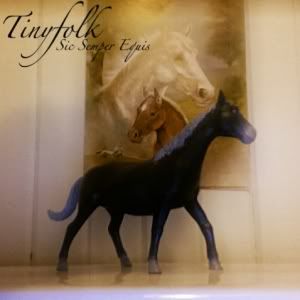 OKAY, WE GET IT! TINYFOLK'S
SIC SEMPER EQUIS
IS AN AMAZING RECORD. SHUT UP ALREADY! So maybe you feel that way about my continued praises of Russ Woods' postmodern hilariously melancholy landscape,
Sic Semper Equis
. I swear this is the last time I talk about this album. If you haven't listened at this point, you might be dead, or one of those scared animals in the forest.
Key Tracks:
"If I Was A Person"
"Thus Always Horses"
"Animals Are Stupid"
Tinyfolk on Myspace
Original review
Vampire Weekend-
Vampire Weekend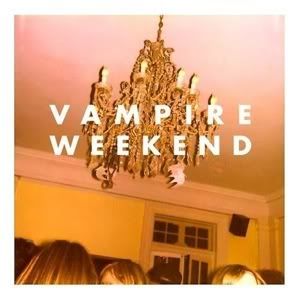 Unlike most of the records on this list, Vampire Weekend's self-titled debut is all kinds of fun. Seriously has there ever been a less pretentious album this year? Honestly these cats are enjoying themselves so much it's infectious. Don't be a hater just because they go to college and actually try and do something other than cock rock.
Vampire Weekend
is a breath of fresh air in the overindulgent, stiff and snobbish scene that exists today.
Key Tracks:
"Cape Cod Kwassa Kwassa"
"Campus"
"Walcott"
Vampire Weekend site
Wabash-
Glucose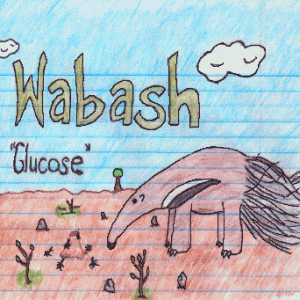 There is always one album that I find right as the year comes to a close that immediately finds its way into my heart. That album would be Wabash's
Glucose
. Spiritual by nature and joyful in its longing,
Glucose
is loaded with all kinds of keyboards, organs and lo-fi piano sounds that culminate in a completely beautiful album. An uplifting experience into existential longing, Wabash's
Glucose
is a refreshing and enthralling album from start to finish. You will believe.
Key Tracks:
"Glow"
"Sweaters"
"Almost Famous"
Wabash on myspace
11-20 (In Alphabetical Order):
Adam Faucett-
Show Me Magic, Show Me Out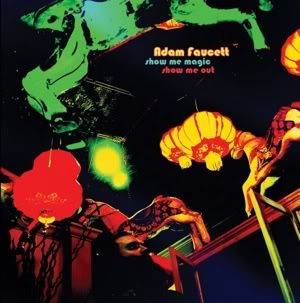 This year the Arkansas troubadour manages to outdo his debut
The Great Basking Shark
with
Show Me Magic, Show Me Out
. I never really know quite what Faucett sings about, but I feel it and that is usually more important. With a voice that pierces the thickest of whiskey brews and fingers that won't quit,
Show Me Magic, Show Me Out
displays everything great about Faucett's abilities while at the same time increasing the mystery of what he's really all about. Undoubtedly a timeless record to be sure.
Key Tracks:
"Poor Directions In Rabbits Blood"
"Indian Giver"
"You Do It"
Adam Faucett on Myspace
A.R. Rahman (& M.I.A.)-
Slumdog Millionaire Soundtrack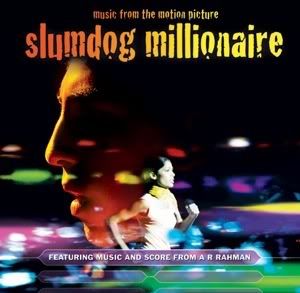 A.R. Rahman's score (with assistance from Sri Lankan rapper M.I.A.) of Danny Boyle's magical
Slumdog Millionaire
is simply electric. Mixing more traditional Indian music with more modern techno sounds was simply genius. It never feels trite mixing sitars and beats together. The score perfectly reflects the kind of developing society portrayed in the film. World's collide, ideals clash and music echoes in beautifully frantic harmony.
Key Tracks:
"O..Saya"
"Paper Planes"
"Liquid Dance (ft. Palakkad Sriram & Madhumitha)"
Slumdog Millionaire site
Death Cab For Cutie-
Narrow Stairs
There is a revitalized angst in Ben Gibbard's voice. No longer is he resigned to death as he was on
Plans
. Here on
Narrow Stairs
he refuses to back down and Death Cab For Cutie come in with fightin' words and clenched fists. Laying out the punches, the songs are dirty and confined, no longer is Chris Walla allowed to play in open pastures. Death Cab For Cutie have created some of their catchiest numbers yet on
Narrow Stairs
. This is what happens when someone lights a fire under your ass.
Key Tracks:
"Bixby Canyon Bridge"
"Cath…"
"You Can Do Better Than Me"
Death Cab For Cutie site
Original review
Ross Major (Iamb)-
Farewell (Dear Friends)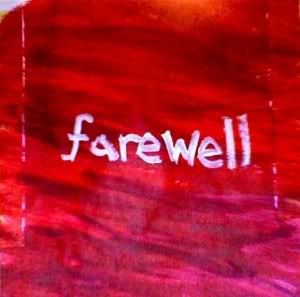 San Luis Obispo's Ross Major used his impending move to UC Santa Cruz as a way to create
Farewell
, a shockingly tender and beautiful record. Regret, loss and longing are deftly handled here in a way that blows away Iamb's earlier, if a bit overblown, album
I'll Stay Waiting
.
Farewell
is definitely one of the best folk albums of the year, using the ghosts of the form's rich history to shape a mythic story of his own, looking brightly (and bruised) into the future, whatever that may be.
Key Tracks:
"The Sea In San Diego"
"Butterflies"
"When The Plane Landed In Seattle, WA"
Ross Major (Iamb) on Myspace
Madeline Ava-
Film And Lentils/In The Aeroplane Under The Sea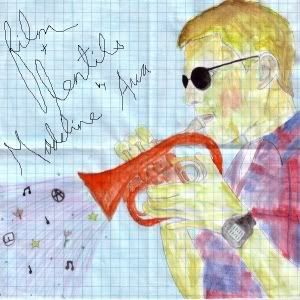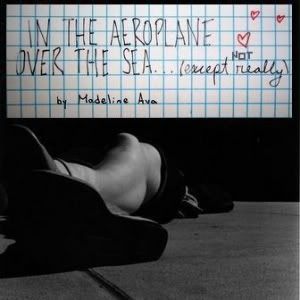 The first in my two-for-one top 20 album deal is Madeline Ava's
Film And Lentils
and her cover album of Neutral Milk Hotel's
In The Aeroplane Under The Sea
. Madeline's voice is certainly the star of the show here (the ukulele strumming is kept to a delightful, but to a bare minimum). A slight rasp augmented by a girlish tone (she often giggles in her songs Lil Wayne style),
Film And Lentils
paints a sweet portrait of the life of a slightly normal girl in a day-to-day perspective. Her astonishing cover album of
In The Aeroplane Under The Sea
allows Madeline's spirits to take flight.
Key Tracks:
"August 4th"
"Tambourine In Time"
"Holland, 1945"
Madeline Ava on Myspace
Patrick Ripoll-
Praise The Lord!/Spawning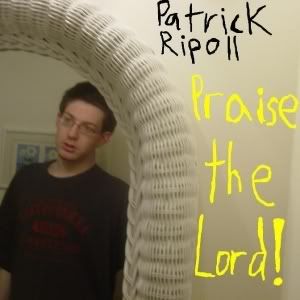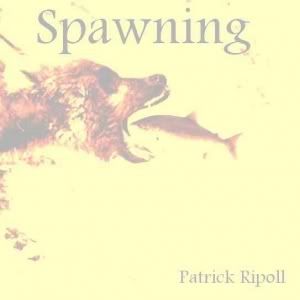 Emotional provocateur Patrick Ripoll is more popular for his sampling wizardry, but I have always preferred his folk stylings and in 2008 he offered up two great albums,
Praise The Lord!
and
Spawning
. Like two schizophrenic brothers, both play off each other.
Praise The Lord!
is more diverse and scattered spanning as much time as it does tracks while
Spawning
focuses on one specific relationship and is minimal in execution. Both are unbelievably down to earth albums and complicate any notions of simple artist evolution. They are capsules of emotion, pockets of passion that we dig up with wonder.
Key Tracks:
"Second Place"
"Rest"
"Another Fucking Titanic Song"
Patrick Ripoll on Myspace
Original review of Praise The Lord!
The Roots-
Rising Down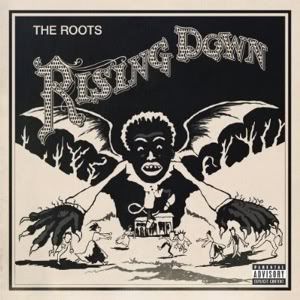 In stark contrast to the rest of the hip-hop on my top 20, The Roots eighth studio album,
Rising Down
, is fierce, passionate and incendiary. Using dirty synths and horns that squelch and squeal, ?uestlove's drums keep constant rhythms for Black Thought and friends to spit on. Everything from war, global warming, racism and human perceptions in a real and gritty world careen off each other to make one of the most openly political and refreshing hip hop albums in years.
Key Tracks:
"75 Bars (Black's Reconstruction)"
"Criminal (Feat. Truck North and Saigon)"
"I Will Not Apologize (Feat. Porn and Dice Raw)"
The Roots site
T. I.-
Paper Trail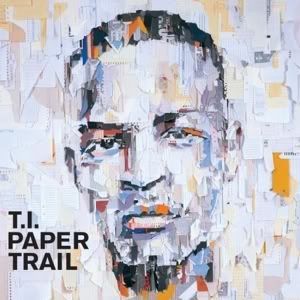 T.I. doesn't appear to be that special on first glance, but the hooks, the rhymes, they grow on you. He has that certain southern charm and on
Paper Trail
all these factors combine to make his most satisfying experience yet. His confidence here is tempered with a new sense of mortality that makes the claims of success all the more melancholy, but at the same time, all the more joyous. You can feel more than just the alcohol in the club with these songs.
Key Tracks:
"Live Your Life (Ft. Rihanna)"
"Whatever You Like"
"Swagga Like Us (Ft. Kanye West, Jay-Z & Lil Wayne)"
T.I. site
Various Artists-
21 Love Songs - A Tribute To The Magnetic Fields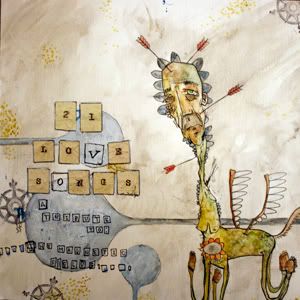 Organized by James Eric, this DIY tribute to the Magnetic Fields,
21 Love Songs
, is what collectivity and family are all about. Artists ranging from Tinyfolk to Manipulator Alligator to Your Yellow Dress all offer diverse hilarious and melancholy renditions of Stephin Merritt's tunes. All these new takes echo a great love of music and no matter how much of a fan you are of The Magnetic Fields or of these artists, it's great to see a community so unified.
Key Tracks:
Abrevadero-"All My Little Words"
Manipulator Alligator-"living in an abandoned firehouse with you"
Your Yellow Dress-"Absolutely Cuckoo"
Download 21 Love Songs here on CLLCT
Original review
Wee Pop! Records' Releases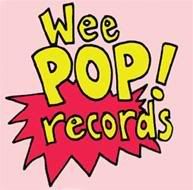 Wee Pop has definitely carved out its own beautiful niche in the DIY scene and in 2008, its second year, rose to number one in my eyes as the best and most consistent label out there.
Every release by Wee Pop! Records this year was unique and redefined the very definition of what pop music means to us. Here are my three favorites of 2008:
Let's Whisper-
Make Me Smile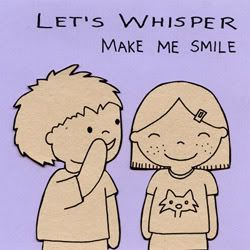 The sweetest most unpretentious little EP this year, Colin Cleary and Dana Kaplan of The Smittens took the melodies and lessons learned in that band and constructed something more minimal more tender and even more intimate. A true gem that makes me feel at home.
Key Track:
"Hey Sunshine"
Let's Whisper on Myspace
Original review
Mexican Kids At Home-
When We All Live In Igloos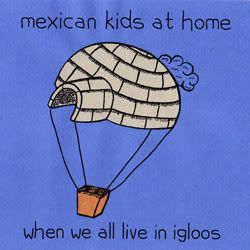 I like my original description of Mexican Kids At Home, "A chibi Led Zeppelin" and my adoration of this little EP has grown since. The songs all carry a vibe of the mythic, but leave behind any grandiose or verbose renderings. It would as if Lord Of The Rings was adapted as a puppet show (maybe we should ask these
guys
). This EP is tons of fun.
Key Track:
"Start A One Man Band!"
Mexican Kids At Home site
Original review
-One Happy Island-
Secret Party That The Other Party Doesn't Know About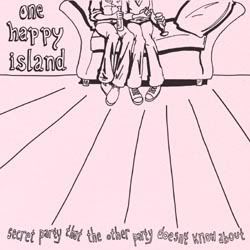 Boston's finest sloppy pop band, One Happy Island Island's second album on Wee Pop! Records is more fun, more catchy and more melancholy. The songs are more nuanced in their range of emotions and are more cathartic. They easily have found their way into my heart.
Key Track:
"Temporary Tattoo"
One Happy Island on Myspace
Original review
Wee Pop! Records
And there we go. These lists are exhausting, but worth it. Hope you all enjoy it.
Links:
I quick top ten I made for The Daily Nexus back in December
CLLCT to download a bunch of these albums for free!