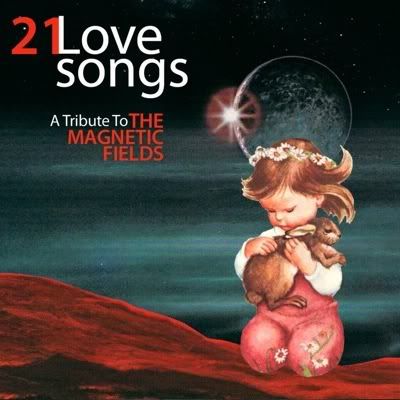 It may not be fair to review this album since I'm on it, but James Eric has compiled a great collection of artists covering the hilarious and heartbreaking Magnetic Fields.
The covers here run the gamut from faithful to downright bizarre. Check out Tinyfolk's take on "I Don't Believe You," I'm so strangely drawn to it, but every time I'm like "WTF is going here?" It sounds like a mice and robot orgy.
Fairmount Fair turn "Why I Cry" into an upbeat jungle romp 'n' stomp sing-along. The same goes for James Eric's cover of "(Crazy For You) But Not That Crazy," as he injects about ten billion watts of electricity into the original and lets go with wondrous results.
Now before you think that everyone here is taking a piss out of Stephin Merritt, its all in good fun and I think he might get a real kick out of this if, or when, he hears it.
There are some also really touching covers, my cover of "Plant White Roses," for example. No, no really. But seriously, A Lime Tree's homespun, front porch country cover of "You Me And The Moon," is really sweet and banjolicious.
But my favorite cover on this album is Your Yellow Dress's cover of "Absolutely Cuckoo." This has become a full blown twee number, and you'll totally fall in love with Carrie Muller's voice. Her voice bounces just on the edge of the melody and keeps the song racing. Alex Poska ain't no slouch either and the simple yet effective arrangement keeps it on constant repeat for me.
When James first started calling for admissions on this tribute I hadn't even heard of The Magnetic Fields, but I was totally won over and consider myself one of the believers. I think everyone on this tribute, regardless of fandom, really pulled out the big guns and made a great album even if you haven't heard of The Magnetic Fields either.
Mp3s:
Tinyfolk-"I Don't Believe You"
Your Yellow Dress-"Absolutely Cuckoo"
Links:
Download the whole album for FREE on CLLCT!
Buy a hard copy from James Eric
Tinyfolk on myspace
Your Yellow Dress
The Magnetic Fields on myspace