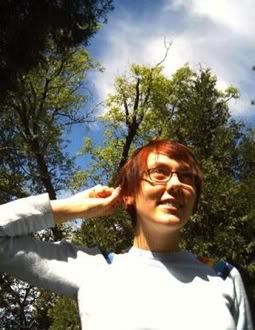 Shelby Sifers, if you haven't heard of her, is amazing writer and singer making minimalist musings and sweet songs. Her voice is often called "childlike" even in the most loving circles, but I would say it reflects the melancholy of an individual who tries to be hopeful in every circumstance.
"You Geranium, You Potato," is taken off her overlooked first album
Yeah And I'm In Love Too
and it is particularly striking. Like my favorite Shelby songs, a lone acoustic guitar plays allowing her voice to shine. She has some lovely harmonies courtesy of Joshua Fu, of The Lonesome Architects if I'm not mistaken.
Basically my take on this song is that it's about caring for someone who is really depressed and I wish people would sing this to me when I'm feeling down. It's about seeing someone's sadness and falling in love with the inherent wisdom/beauty that often (I feel) comes with depression. It is seen quite clearly in the last lines,
"There's never a time/when you don't feel like dyin'/But somehow/I just love you more…"
Mp3:
Shelby Sifers-"You Geranium, You Potato"
Links:
Shelby Sifers on myspace, she is on tour right now!
Buy her records at Oh Map! Records