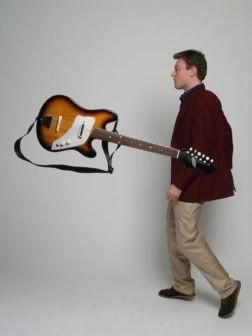 Sadly the ambivalence I felt towards Happy Happy Birthday To Me Records last artist is carried over to Keith John Adams' record
Unclever
.He plays his own brand of bouncy garage rock that it certainly meant to be catchy.
The first track, "Bed," really grabbed me with its honest bounce, cool riffs and Adams' snarling vocals, but it kind of went downhill from there. Songs like, "Lies," and "Sorry That I Loved You Badly," are meant to be clever, but they come off as annoying and Adams sounds kind of like a jerk. Now I'm not attacking his character, but this is the feeling I get when listening to these songs.
And the song "Yesterday Morning" is pretty atrocious with lines like,
"When I woke up yesterday morning/And my heart felt like a flower press/Cuz of course I couldn't call you/I couldn't express."
Ugh.
Adams is really best at rocking out and "Elizabeth Hodgkinson Warzone" is successful at being catchy while maintaining its own sense of cool. "Nothing" mixes things up a bit with some pounding piano and a greater set of harmonies.
I feel bad for being 0 for 2 on albums from Happy Happy Birthday To Me Records, but Keith John Adams just comes off as a bit too arrogant most of the time and doesn't have the skills to back it up. I could make a joke about the album title, but I'll leave that up to you.
Mp3:
Keith John Adams-"Bed"
Links:
Keith John Adams on Myspace
Happy Happy Birthday To Me Records
Unclever review on RetroLowFi