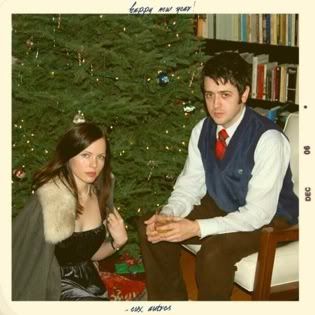 Happy Happy Birthday To Me Records was kind enough to send me Eux Autres latest record
Cold City
, but I gotta be honest, it doesn't do much for me. I listened to it at least a dozen times, but most of it passes through one ear and out the other, and believe me I wanted to love it. Eux Autres are a boy/girl drum-and-guitar duo based out of Portland and they sing songs mostly about military history, sports and/or being wronged. They occasionally sing in French. What's not to like?
And yet, I am still hesitant. A lot of the songs sound the same-ish and when they sing I can't really hear any of the words. I don't want to say that Eux Autres is generic because I don't think that. "Anne Boleyn" mixes things up and adds some shimmer-y organ that is really quite delightful. It reminds me of Stars if they had more discipline. Now that I think about it, the songs that have the organ are infinitely better. The next song, "The Town That Never Was," has an ominous bounce that is further accented by the Halloween-esque organ riff throughout. I guess what I'm saying is, when Eux Autres are solely drum-and-guitar they come off as any other indie/garage rock band.
But, I think a lot of people will like this record more than me. A song like "Molly" has a soaring, almost one-word chorus that will definitely get stuck in people's heads and has enough wit to satisfy any
Pitchfork
reader.
I really wanted to love
Cold City
by Eux Autres, and there are some good tracks, but I just couldn't get passionate enough about it. Maybe you will.
Mp3:
Eux Autres-"Anne Boleyn"
Links:
Eux Autres on Myspace
Happy Happy Birthday To Me Records
Cold City review on RetroLowFi