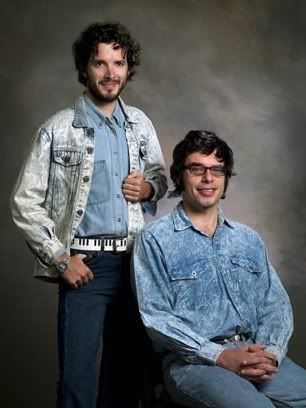 Self-described "New Zealand's 4th Most Popular Comedy Duo," Flight Of The Conchords first full-length studio album arrives courtesy of Sub Pop on April 22nd (Trying saying that ten times in a row). And today on an ever-so-epic myspace bulletin I learned that they have issued one of the songs from the album on their myspace for free. The song? "Ladies Of The World."
Now I know some take issue with the fact that a lot of the songs on the forthcoming self-titled album are mostly (well, all) are taken from the show. However I know that they weren't completely satisfied with the hurried versions that were released.
"Ladies Of The World" doesn't get a heavy makeover, but the lounge angle is stressed more than any previous version of the song. At first I missed the Sean Paul-esque part that Bret sang, but I dig the lounge style just as equally. The best part about the album version is the beautiful wordless coda that comes after a few seconds of silence.
Here is the tracklist for
Flight Of The Conchords
:
1. "Foux Da Fa Fa"
2. "Inner City Pressure"
3. "Hiphopopotamus vs. Rhymenoceros"
4. "Think About It"
5. "Ladies of the World"
6. "Mutha'uckas"
7. "The Prince of Parties"
8. "Leggy Blonde"
9. "Robots"
10. "Boom"
11. "A Kiss Is Not a Contract"
12. "The Most Beautiful Girl (in the Room)"
13. "Business Time"
14. "Bowie"
15. "Au Revoir"
Mp3:
Flight Of The Conchords-"Ladies Of The World"
Links:
Flight Of The Conchords on Myspace
Sub Pop Records
What The Folk, a great fan site