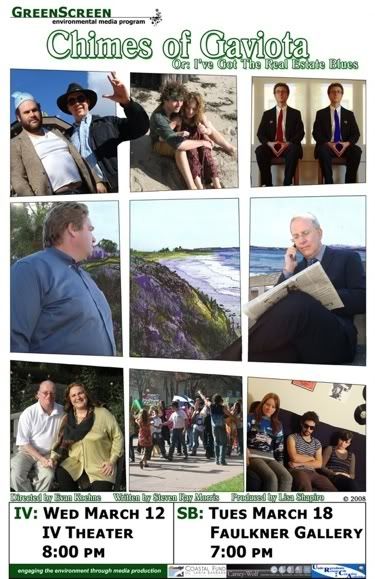 A mockumentary about the coast that will have you rock'n out to the sounds of activism!
…I didn't invent that tagline. But I'm LOLing anyway.
Chimes Of Gaviota: Or I've Got The Real Estate Blues
, a mockumentary about coastal development and the zany figures who take up the fight for and against was first birthed in July 2007 when Joe (the Film & Media Studies Advisor/my BFF) introduced me to a grad student, Nicole Starosielski. She was creating a program called
GreenScreen
where media creation would be fused together with environmentalism to bring awareness to local Santa Barbara issues. Yet, its scope is much larger. By using film and other media to shine a light on issues, real solutions
can
be reached.
With this in mind I researched and wrote until I came up with the idea of a mockumentary. A mockumentary is a great form because it can be equally critical and sentimental when it's done well. I also chose the issue about development along the Gaviota coast (one of the most biodiverse places in North America) because I think public vs. private issues are really interesting and so complex, mystical and emotional. It's completely grey.
So for my first comedy script I decided to make it very difficult, but I knew I couldn't do it on my own. As writer I also took up the mantle of cinematographer because well…I wanted to grow in that area. My Producer/Art Director is Lisa Shapiro and Goddamn, she is an amazingly talented and intelligent individual. She sees how things work and she knows how to make things happen. She can decipher words on the page and flesh them out into a colorful reality. Evan Koehne knows how to direct. He sees actors as people, not props and knows how to get the best out of them. He also is full of ideas and we constantly came up with great pieces that were never in the script but were just as meaningful. And he doesn't take himself too seriously; this is a comedy after all and sometimes I needed to be reminded of that. The entire crew, God Bless them all, we made such a great unit and I'm sorry If I don't name you all, but I am eternally grateful for all of you believing in this issue and this story I wanted to tell, and being just as driven if not more than me. And my actors, holy shit, we had the best cast on the planet, no divas, no selfish models, just humble, honest, passionate folks devoting themselves to getting into character and giving way more than one hundred percent.
All fall quarter we filmed and even after I left for New Zealand they continued to toil and perfect our beautiful piece of art.
Chimes Of Gaviota: or I've Got The Real Estate Blues
premieres at the Isla Vista Theater in Isla Vista, California this Wednesday March 12th 8:00PM and then in downtown Santa Barbara on Tuesday March 18th at the Faulkner Gallery at 7:00PM.
…But it ain't over. The worse thing for a film to do is get made and then just lie around. Believe me, this film
will
go places. It has to, it's bigger than all of us, but without us, it wouldn't have been made.
Thank you everyone for allowing my vision to become your vision and your vision to become mine. Like the environment we are symbiotically tied to it. We are art and art is the environment.
Trailer 1!
Trailer 2!
Mp3:
Bob Dylan-"You're Gonna Make Me Lonesome When You Go"
Links:
Event on Facebook for more details
CHAOS, CLOCKS AND WATERMELON MEDIA blog for behind the scenes footage and photos
Learn more at SaveNaples.org
Learn more at GaviotaCoastConservancy.org