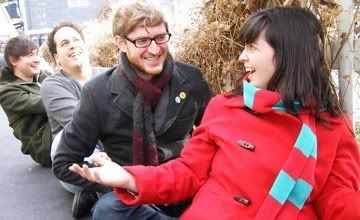 A self-deemed sloppy DIY band from Boston, One Happy Island has released their second EP,
Pulaski Park
, on Wee Pop! Records. It is a bit mellower than their self-titled EP, but what it lacks in energy it makes up in sunshine, kazoos and laser shows.
I think I know why this EP is mellower. When I listen to these songs I get the impression it is a journal of a day's events at this park drifting into the night. Each song sort of drips into the other and I smell the barbecue smoke and grass stains.
The songs on
Pulaski Park
are just four parts to the same song to me. "Anita" starts off with Rebecca's soothing voice singing of a helpless devotion to a girl who's far away. "Florida, Dear" continues the theme of distances, but bounces along in the albums most energetic track. "Potential" hops along to a country bass bounce and contains, as Marc from RetroLowFi said, "The best kazoo solo ever." Finally everything reaches a beautiful climax with "Laser Show." It is a very lyrical song befitting of Brad's buttery vocals. By the end of the song I can see the sunrise to a new day and feel the morning dew in my nose. There were some ups and some downs but it was living.
One Happy Island joins the pantheon of artists released on Wee Pop! Records and does not disappoint listeners hoping for satisfying pop journey and more.
Mp3:
One Happy Island-"Laser Show"
Links:
One Happy Island on Myspace
Wee Pop! Records (2.0)