a faulty chromosome: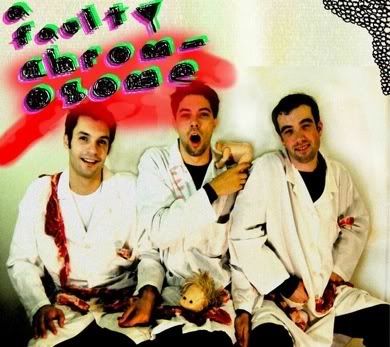 a faulty chromsome is a lo-fi, noise pop/shoegaze band from Burbank, CA and their new album
as an ex-anorexic's six sicks exit,...
is out now (self-released, like all proper lo-fi acts). The song "them pleasures of the flesh," sounds like a thunderstorm in a desert and yet is quite tender at the same time. Electric guitars rip the skyline while casio keys underscore the melancholy. The last few minutes are quietly intense and require a headphone listening experience.
Links:
a faulty chromosome on myspace
Sun drenched video for "Jackie O"
The Terrordactyls: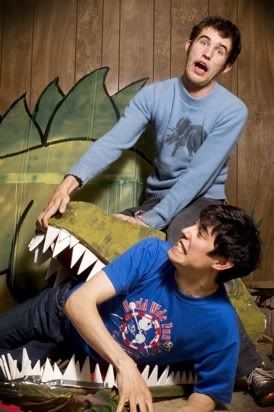 The Terrordactyls (best name ever) are Michael Cadiz and Tyrel Stendahl from NYC/DC and their new self-titled album is sure to find plenty of love. Due to the recent popularity of
Juno
(and Kimya Dawson) the duos song "Devices," featuring Kimya Dawson couldn't have come out at a more perfect time. It's a bit too precious for me with lyrics like,
"You and I are meant for each other/ a literary device/but together we're lovers,"
but its got some mad kazoo skills through out and is already finding a mass audience due to the cute video on You Tube.
The Terrordactyls on myspace
Cute stop-motion video for "Devices"
Pocketbooks:
Remember
Sunny Intervals
? Well that was Andy's side project; this is the band that he is a part of. Pocketbooks are a self-described, "Pop group from London," and have new EP out called
Waking Up
and the lead single is "Don't Stop." It's classic catchy pop even if the end of the chorus weirds me out a bit. No matter, the boy/girl harmonies,springy piano and the hook
"Don't stop/don't stop/don't stop me!"
keep me coming back for more and more.
Pocketbooks on myspace
For UK kids, order Waking Up on Make Do And Mend Records
US kids, order Waking Up on Valiant Death Records
Buy Waking Up off Indiestore.com!