...And the results are in!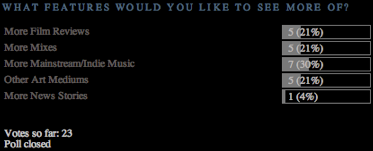 It was basically a tie between most of the categories (except news), but indie/mainstream music was the winner.
With
Foggy Ruins Of Time
's growing popularity you may get your wish, but don't worry there will still be plenty of Lo-fi music to go around. I have a review of Patrick Ripoll's new album in the works as well as two new Wee Pop! releases coming this week so stay tuned and vote in the next poll!
Link:
Good 'ol messy Lo-Fi courtesy of Existential Hero