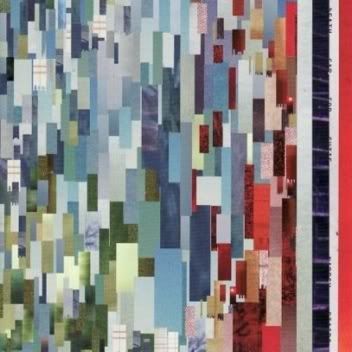 I'll start off with such heresy (is it really?) and say that I prefer Death Cab For Cutie's later albums to their earlier ones (although their cover of Morrissey's "This Charming Man" off of
You Can Play These Songs With Chords
is so bad it's endearing). But how does the band's 7th album stack up against such monoliths as
Transatlanticism
and uhh…
Transatlanticism
?
The first seven songs off of
Narrow Stairs
are very nicely sequenced. "Bixby Canyon Bridge," fools us into
Plans
-esque territory before exploding into a chaotic thunderstorm all buoyed by Ben Gibbard's "vibrato-less" voice. I am particularly keen on the long opening to "I Will Possess Your Heart." Do I think it adds to the actual "song" portion of this track? Not really, but it's moody and groovy. "No Sunlight" and "Cath…" are both more upbeat numbers and although I prefer Death Cab's mellower songs, they are getting stuck in my head regardless.
"You Can Do Better Than Me" is probably the most melodramatic song in the Death Cab For Cutie catalogue but I LOVE IT. Sleigh bells and timpani march along while Gibbard sings viciously and immaturely,
"But it's times I think of leaving/But it's something I'll never do/'Cause you can do better than me/But I can't do better than you."
And yet, I bet you can find thousands of live journals echoing the same sentiment. Powerful words indeed.
After "You Can Do Better Than Me" the record becomes pretty forgettable, but "Grapevine Fires" deserves special mention because it was written during all the fires in Southern California last summer. Taking classes in Santa Barbara I awoke one morning to see my entire kitchen was covered in ash (we left the windows open). I would bike to my catering job and see the sun blood red. Gibbard captures the sentiment quite differently then I would have imagined, singing about it with a resigned level of soul.
The one thing about
Narrow Stairs
that disappoints me is the non-presence of Chris Walla.
Plans
and
Transatlanticism
were equally his records as much as they were Gibbard's (...and the other guys too). I don't hear his "voice" at all really. This album is less of a headphones record and one more meant for the road.
Since I have begun this blog my music vocabulary has broadened a bit and even if I don't hold Ben Gibbard and crew as gods of lyrical and musical subtly anymore,
Narrow Stairs
is a solid, memorable effort that fits nicely along with everything else they've done.
Mp3:
Death Cab For Cutie-"You Can Do Better Than Me"
Links:
DeathCabForCutie.com
Death Cab For Cutie on Myspace!
Narrow Stairs review on Pitchfork
Narrow Stairs review in Rolling Stone