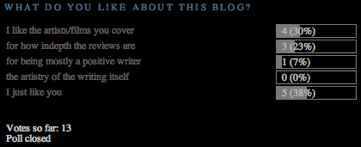 So it seems if you guys really like me! That poll was a vanity project, but vote in the new poll which will be more focused from now on (as far as I can tell) on more interesting questions that do NOT pertain to blog maintenance. If you have any poll ideas write a comment on this post!
I would check below for some great articles on We Heart Arts & ACOSM Records, reviews of the Prince Edward Island EP
Lies To Tell Tourists
and the new Flight Of The Conchords record and the Mp3 of the Week "I Will Not Apologize" by The Roots.
Stay tuned for reviews of the Foreign Loren/Kapiano split from Real Love Records, ACOSM Records artists Lauren Elle and Everyone Except Me and more!
Links:
See my fotos taken in the South Island of New Zealand