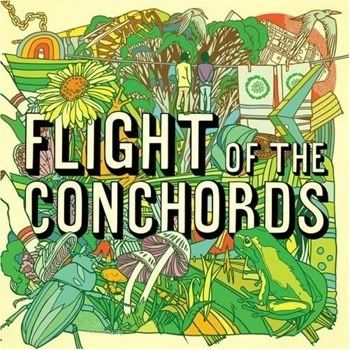 Being In New Zealand right now you'd swear that the release of Flight Of The Conchords debut studio album on Sub Pop Records
Flight Of The Conchords
was the second coming. Every record store within the vicinity of me in Wellington is covered in posters and half the stores are devoted to copies of this record. But let's get on it with it.
As a devoted Flight Of The Conchords fan I cannot help but feel a bit tired. I understand why they wanted to redo the songs from the show, but we've heard every song on
Flight Of The Conchords
("Au Revior" is pretty much a coda to "Foux Du Fafa"). The songs on this album are essentially just higher quality versions of the ones on the show, but that isn't to say everything is said and done.
"Inner City Pressure" probably receives the best upgrade as well as "Ladies Of The World." Both these songs sound fresh and Bret and Jemaine still sound excited about performing them. The differences between these versions and their show counterparts are insignificant but those insignificant bits make all the difference (note: listen to to Jemaine's falsetto near the end of "Ladies Of The World" plus the kick ass coda).
Elsewhere classics like "Hiphopopotamus vs. Rymenoceros" and "Robots" receive new upgrades. "Robots" is without a doubt done. I enjoy it still, but it's lifeless. However on "Hiphopopotamus vs. Rymenoceros," Bret and Jemaine manage to create an interesting meld between the live versions and the version on show. I applaud it for this hip-hop/acoustic hybrid, but it isn't the best version out there.
I must not have noticed "Mutha'uckas" before because in another universe it'd be more popular than their "other" rap song. Using pretty much only a fat synth bassline and muted guitar, Bret raps
"I'm gonna juice the mutha'ucka"
and other various fruit related expletives while Jemaine lays down some woes about what else but money:
"Mutha'ucka charge a two buck transaction fee
Makes my payment short
My rent comes back to me
Minus a twenty-five dollar penalty
So you'll see me 'cause of your mutha'uckin' fee
Read the words
On my ATM slip, it said
We're all mutha'uckas
And we're 'uckin' with your shi-"
Honestly how did we ignore this song for so long?
This album will probably be one of my favorites of 2008 and I know that they wanted these to be the versions for everyone to remember and yes they are as hilarious as ever, but really I just want Bret and Jemaine to be able to move on. I know they've still got plenty of funny left to say.
Mp3:
Flight Of The Conchords-"Mutha'uckas"
Links:
Flight Of The Conchords on Myspace!
Order the album from Sub Pop Records!
Plenty of FOTC for all Kiwis