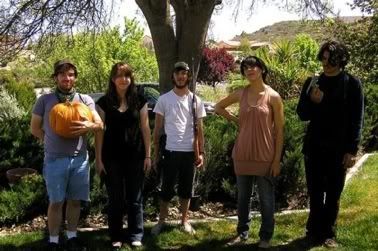 Foreign Loren and Kapiano face off...yeah
This'll be the first split review for
Foggy Ruins Of Time
. It's a format that still lingers in the Lo-Fi world, and for good reason. Real Love Records (Candle, Iamb) has provided me with this lovely little split featuring San Diego's Foreign Loren and Paso Robles's Kapiano.
I'll jump right out of the gate and say this; stylistically, Foreign Loren sound like Beirut with a female vocalist on
Sea Faced
. Allison Barnes voice floats sweetly above the melody each time, but an issue I have with their half of the split (and an issue I have with Beirut) is that every song is a waltz. Maybe it is my unfamiliarity with this particular form of music, and although Foreign Loren have it down pat, I can't help but wonder what else they have up their sleeve.
And
yet
I can't help but love the first track "The Waltz of Dear Hector the Ghost," where lush harmonies and a single trumpet surge like waves in the choruses. The phrase,
"Sailing Away..."
has never quite been this vividly poetic.
On the last track of
Sea Faced
, "Seaside, We Collide," Foreign Loren get a bit rougher, more passionate, and I like it. The ukulele sounds aggressive and Allison's lyrics take a huge bite when she sings,
"We still hide in our hearts and in our minds/We still love all the facts we left behind/I smile like a child, curse like a saint/We haven't lost, we've taken off."
The slow build up crescendos off the side of a cliff as the guitar and trumpet collide with the accordion and ukulele mimicking the beautiful chaos of the sea.
I can tell Foreign Loren are just getting their feet wet with
Sea Faced
. They have all the chops necessary, the experience is what'll propel them forward next time and I look forward to it.
Mp3:
Foreign Loren-"Seaside, We Collide"
I had the pleasure of seeing Kapiano with Iamb in Santa Barbara about a year ago and although they put on an entertaining show I wasn't compelled then to further explore their music. Still I was interested to dive into their half of the split,
Home Is Where Your Heart Breaks
.
Kapiano, get things started off real strong on "Six Years Of Sleep." I don't know what it is about this combination of chords but when they sing,
"This ship will take me somewhere/No one will dare to follow/ I don't know what I'll find/But I need to find it alone,"
it is positively enrapturing and heartbreaking. This is a heavy song, but it's lush and Andrea's and Patrick's vocals work in tandem to become an expressive whole.
The rest of
Home Is Where Your Heart Break
suffers a bit from the songs going on a tad bit too long as in "Animals," which also gets a bit melodramatic. "Saltwater" has a nifty guitar riff and interesting interplay between the Patrick's and Andrea's vocals, but it never really goes anywhere.
The final track, "An Oklahoma Song For You" plays a bit with percussion (ala "Lay Lady Lay"), Patrick adds a drunken swagger to his voice and Andrea sounds like she's singing through a radio. It meanders sweetly without a sense of purpose, but when the piano jumps in everything starts to make sense and Kapiano wander off comfortably into this new world they have created.
Home Is Where Your Heart Break
has some startling moments of emotion and truth, but contains moments that require a bit of patience. However all of Kapiano's moments require listening and they will make themselves heard to all lovers out there.
Mp3:
Kapiano-"Six Years Of Sleep"
I don't know if I approached reviewing a split correctly, but
Sea Faced/Home Is Where Your Heart Breaks
contains lots of promise from Foreign Loren and Kapiano. It isn't without its natural missteps, but this is the type of record you'll put on to relax only to have it quietly hit you when you least expect it.
Links:
Foreign Loren on Myspace!
Kapiano on Myspace!
Order the specially handmade split from Real Love Records now!