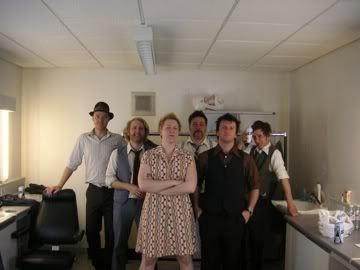 Prince Edward Island is a six-piece pop band from the UK, you know the part where they have those sexy Scottish-esque sounding accents. Regardless I had never heard of them until I received their newly released EP,
Lies To Tell Tourists
in the mail. Yet, this four song EP is one of the most lush and intricate pop albums I have heard in awhile, and it's fantastic.
This album starts off with two solid numbers "It's All Over The Bar Shouting" and "Take Your Breath Away," both songs trading off male/female vocals while maintaining an intensity that isn't so common in boy/girl set-ups. Credit must also be given to the rest of the band for propelling the intensity on these songs (note: check out the drumming on the latter part of "Take Your Breath Away").
On "I've Been To A City," things jump from solid to phenomenal and it is easily one of my favorite songs I've heard this year. Living in a city at the moment, there is something so right about this song and it captures the feeling quite beautifully. And did I mention it's lush? It has all these different elements from the drums, guitar, bass, keyboard lines, harmonies, horns, etc. that all stand alone but come together in a way that makes Arcade Fire songs seem flat by comparison.
They round things off quite nicely with my other favorite track on the EP, "I Am A Pig And You Are A Cow." It may be the quietest song on here but it is still brimming with finger snaps, cymbals, horns, etc. And is that theremin I hear? (Or musical saw?)
Lies To Tell Tourists
is one quick EP brimming with life, intensity and enough sexy accents to knock you on your ass. Prince Edward Island is a band that I need to investigate more of, but this is a damn fine start.
Prince Edward Island-"I've Been To A City"
Links:
Prince Edward Island on Myspace!
Order the EP now on BabyBoom Records!