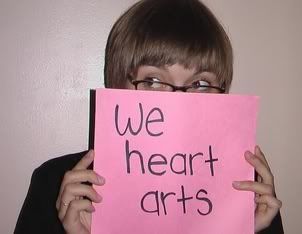 Is that Shelby Sifers hiding behind that sign?
We Heart Arts is a truly wonderful organization that every Lo-Fi musician or anyone who believes in the power of creativity should get behind. It is non-profit and seeks to raise money for kid's creative arts programs across the globe. Here are their tenants:
i. Creative arts teaches young people the value of lifelong active personal expressionism
ii. Creative arts teaches young people to question the world they live in
iii. Creative arts teaches young people that thinking outside of the box is an important mental function in life
iv. Creative arts teaches young people to engage in a social network of proactive young people invested in a community built on meaningful, sustained ideas and expressionism
v. Creative arts open up a world of opportunities for young people to grow and help others through arts therapy
vi. Creative arts can open up an avenue of communication for children with learning difficulties
vii. Creative arts can help children process and work through traumatic experiences
viii. Creative arts can provide peer interaction and a sense of community, independence and feelings of control
I for one agree whole-heartedly with these and in today's world it is a whole lot harder to express yourself freely in the public sphere and kids shouldn't be ashamed of what they create and love to do.
So if you want to support We Heart Arts in some way now is your chance. Write about it, make posters and take photos, make videos talking about it and buy the digital splits featuring so far Shelby Sifers, Eyes For Volume, Secret Owl Society and Fire Island, AK!
Here your chance to use your creativity to make a difference, and not just
awareness
either, but the more people take part the more things get done. Go!
My video for We Heart Arts:
In conjunction with We Heart Arts, ACOSM Records is a label that ya'll are going to hear a lot about in the near future. Also started by Tony Cannings, he says this about ACOSM's ideals; "Music is about passion, drive and the need to free you creatively from the monotony of everyday life. It's about being flag bearers of a new cultural revolution, about having a voice and knowing how to use it, sometimes the quietest of voices can make the loudest noise!"
With recent closures or hiatuses of labels like Pop Monster and Valiant Death, we need labels like ACOSM to take up the new mantle of supporting the unbridled creativity of the Lo-Fi world. Like I said, big things will be happening soon, just you wait. But for now check out the likes of Lauren Elle and Everyone Except Me who are already on ACOSM getting the whole thing started.
Mp3s:
Lauren Elle-"I Wish My Heart Was A Stone"
Everyone Except Me-"50,000 Screaming Adolescents Can't Be Wrong"
Links:
We Heart Arts on Myspace!
Buy The Digital Splits Here!
ACSOM Records
ACOSM Records on Myspace!
Lauren Elle on Myspace!
Everyone Except Me on Myspace!