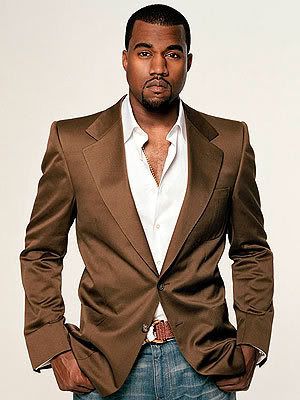 I don't know what it was, but I've been in a big Kanye West kick the last two months or so, even before "Stronger" was a single, I think. Regardless, rap is the genre of music where I am most lacking. Inuit folk music runs a close second. What I enjoy so much about Kanye West is what he has to say and his skills as a producer.
Late Registration
is a headphones record one hundred percent with its rich strings (courtesy of Jon Brion) and intricate sampling and layering (The amazingly powerful "Gone" with a sample of Otis Redding's "It's Too Late" and some dominating cellos).
The College Dropout
has some of the best examples of the sped up or slowed down samples that Kanye made so popular (See "School Spirit" featuring Aretha Franklin's "Spirit In The Dark"). It is also a great example of a young man who refused to make beats for other rappers in a back room for the rest of his life (see the underrated anthem "Through The Wire"). Now some say Kanye has an ego problem, but anyone who has become as successful as he has in such a short time would certainly think that maybe they have a little something special about them. However, Kanye is a neurotic fool and fame has come easy in some ways and in some ways it has become too much for the man. All this being said
Graduation
is Kanye West's most unnerving, but most accessible album to date. Not as sonically dense as
Late Registration
it makes up for it with interesting beats and lyrics that reward immediately and even more so with time. Considering the other two albums had over twenty tracks, it is a lean mean fighting machine with only thirteen tracks. Kanye ditches the skits this time around (I usually hate rap skits, but some of his were actually listenable) and really focuses on making a great set of songs. I'm having trouble saying my favorites because over half the album is so damn enjoyable after only a half dozen listens. The first six songs are almost perfectly sequenced and sound good with the windows rolled down. In fact this whole album is definitely a driving album in a bizarre way. Even with his Kanye's neuroses poking its head in every song, I can't help but groove along with him. "Champion" using a sample of Steely Dan's "Kid Charlemagne" explores one of Kanye's atypical paths to the top and jokes about his current status, "I don't see why I need a stylist/ When I shopped so much/ I can speak Italian." On probably the most enjoyable track on Graduation "The Good Life" featuring T-Pain and containing a sample of Michael Jackson's "P.Y.T. (Pretty Young Thing)" is a classic summer jam that will get blasted in all the clubs and house parties. It is a definite feel good anthem with a whimsy that feels natural, not forced. "Cuz I always had a passion for flashin'/Before I had it I'd close my eyes and imagine," raps Kanye spouting out his method of dreaming to us. Its hopeful attitude is surprising, but fitting. Not that we have the same dreams as Kanye, but we all remember a time when we could envision a utopian future unmarred by the reality of our surroundings. I have to mention "Can't Tell Me Nothing" because of how hilarious the music video is featuring comedian Zach Galifinakas. It is a great video that perfectly fits the serious but "I want to sing along to this loudly" kind of tone. You can view it
here
. "The Glory" on the flipside of "Champion" focuses more on current topics of Kanye's success. It contains lovely "elements" and samples of "Save The Country" performed by Laura Nyro and "Long Red" performed by Mountain respectively. These pieces come together making something reminiscent of 60s summer pop songs. It's fun and it makes me smile. "I'm gonna stop killing these niggaz soon as the chorus hits/ these haters be killing theyself the want to come and get the glory!" You tell 'em Kanye.
The College Dropout
and
Late Registration
both had songs that stuck out as heavy hitters rather obviously ("Jesus Walks" and "Diamonds of Sierra Leone" respectively) and while there is nothing like that here, repeated listens of "Homecoming" make it a big contender for its power in describing how memories are used in the present as tools to change the future. Featuring Chris Martin on chorus duty to surprising effect he sings "I'm comin' home again/do you think about me now and then/do you think about me now and then/cuz I'm comin' home again/...maybe we can start again," while Kanye sandwiches it with verses about a girl from back home and how their story has evolved over time. Overall
Graduation
is a very surprising and satisfying junior album from producer-turned-rapper Kanye West whose mind is too big and knows it and he wants you to know that he knows it and that he can make a great song out of all of this. Now if you excuse me I'm going to build my own studio. I got beats for sale. I can rap too. I can make it big.
Mp3:
Kanye West-"The Good Life (Feat. T-Pain)"
Links:
Kanye West on Myspace
Wikipedia page for Graduation