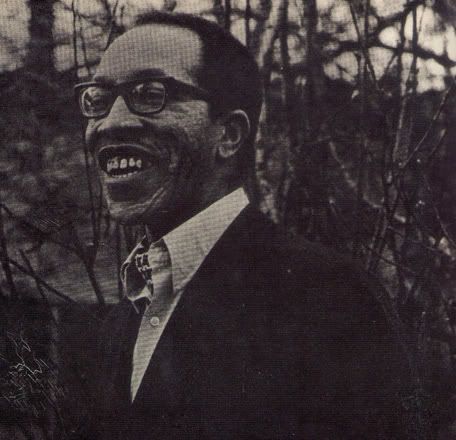 Possibly the only picture of him (?)...
Only recording a handle of 45s, Marion Black is a man who should have been a legend, but as Dante Carfagna and Rob Sevier put it in the liner notes to
Eccentric Soul: The Prix Label
, "Black's career slowed down when it should have sped up." All I have thanks to Numero Group, is three songs (planning on getting the other two when the paycheck roles in). Most people will know Marion Black's distinctive soulful voice as a sample in rjd2's eerie track "Smoke & Mirrors" off his 2002 album
Deadringer
. The moment I heard Black's voice I felt like I was listening to a being from centuries ago. The cracks and the dust reveal wisdom and sorrow. The song sampled is "Who Knows" a song that I can't even begin to describe. It's got an amazing bass line, drums that hop along, and the piano perfectly compliments his voice; haunted, soothing and full of longing. Here are the lyrics, simple and efficient, but yeah I'm having a hard time talking about this; just read and listen.
"Who knows what tomorrow will bring
Maybe sunshine, and maybe rain
But as for me I'll wait and see
And maybe it'll bring my love to me
Who knows
Who knows
Who knows it better than I
That it's she who's keeping me alive
Keeping the little girl as my goal
Makes my life worth living you know
Another day
Another day
Just another day
I wanna live
To share the love that only she can give
And if she don't come on home
I pray the lord will help me carry on
Another day
Another day
Just another day"
The deep soul of that song is complimented by the mournful protest of "Listen Black Brother," A song about black on black violence. His impassioned vocals plea and cry out shaking all of our socially shaped sensibilities. The third song I have "Come On And Gettit" is completely from left field (Although I can't be sure since I only own three of his songs!). It is as if he turned into James Brown and drank a hundred Red Bulls. The energy in this freak workout of a song is insane! He yelps and shakes, getting in a groove so funky it should be illegal. Whoever is playing the guitar in this track isn't human, they're from another world.
I feel like I'm having trouble comprehending the genius that is Marion Black, but with so little information on the man, how could anyone get a grasp of all this? I'm just happy Numero Group (An amazing archival label) is giving us all an opportunity to hear songs and artists who got left behind in history with a capitol H. I can only try and persuade you to listen to Marion Black, but when you
do
listen you'll be won over easily by this lost legend.
Mp3s:
Marion Black-"Who Knows"
Marion Black-"Come On And Gettit"
Links:
Numero Group: Buy the Eccentric Soul series and other great compilations