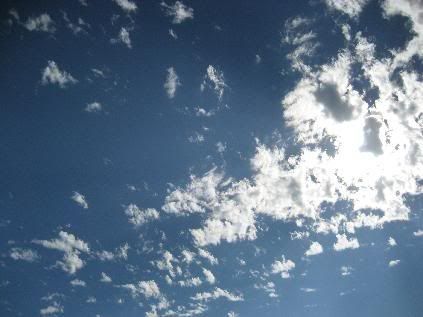 The open road, the open sky
It was time again for another road trip up to Northern California ("affectionately" dubbed NorCal). Work was slow, I felt a comfortably confident about my place in class, my legs were itching to see the highway and I had lots of good music and I need even more good music. I headed to Santa Rosa and Berkeley this time around to visit some close friends. There are some great music and movie stories there too. However on the way up I had to stop at Best Buy (there are none in Santa Barbara). They were having a $3.99 movie sale and though most of the movies were bad I was able to pick up
Pi
,
Audition
and
American Psycho
. I also bought a "greatest hits" compilation of The Temptations comprising of their songs from the 60s (their best period). If you ever get out to Santa Rosa (home of Charles Schultz and the location of Hitchcock's first American film
Shadow of a Doubt
) you should all definitely check out The Last Record Store. Located next to the Junior College, this little but packed record store hosts an interesting, but diverse collection of CDs, vinyl and music DVDS. The Reggae section is the most impressive and the vinyl has great prices. I was able to find the recent but rare Flight of the Conchords EP
The Distant Future
and Bob Dylan's
Nashville Skyline
on vinyl. The album cover is possibly one of my favorite album covers ever. I didn't spend too much there because I knew once I strolled into Berkeley on a Sunday afternoon I would be going to Rasputin. My favorite record store, it hosts an impressive diversity of CDs, vinyl, tape and an amazing DVD section in the store (Note: They have a large section devoted to Criterion Collection and foreign films). While I was there I was able to pick up Darren Aronofsky's greatly ignored epic from 2006
The Fountain
and Wong Kar-wai's amazingly poetic film
2046
. I also found the sort of rare album
Black Monk Time
from the anti-Beatles The Monks, and one of Numero Group's amazing compilations
Eccentric Soul: The Prix Label
. The next day I could not resist, I had to go to Amoeba too. I mean I have a job now, I can afford all this right? The Amoeba in Berkeley (down the street from Rasputin mind you) is not nearly as impressive as the one in Hollywood, but it still is great for carrying stuff that you would only be able to buy online. I was able to find Bob Dylan's under appreciated 1970 album
New Morning
, Casiotone For The Painfully Alone's second album of lo-fi goodness
Pocket Symphonies for Lonesome Subway Cars
, The Pogues Irish Folk Punk masterpiece
Rum Sodomy & The Lash
, and Bob Dylan's "Reggae" album
Infidels
on vinyl.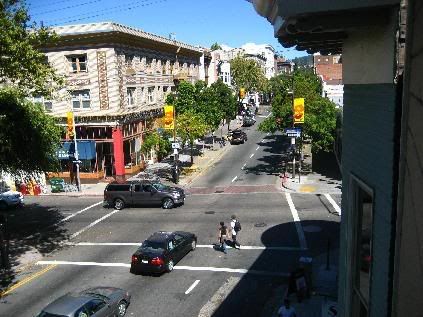 My friend's apartment overlooking Telegraph in Berkeley.
Too much good music to manage, but six hour long car rides gave me ample to time to explore these albums and then some. So without further ado here is my NorCal mix, enjoy!
The Monks-"Monk Time"
The Monks were a group of soldiers who were stationed in Germany together. They became dubbed the anti-Beatles for their focus on rhythm as opposed to melody. Everything about The Monks can be found in this great opener off of
Black Monk Time
; anti-war Dadaist yelps, tribal-like drums, monk like chanting, and just all around coolness with being formally against everything 60s.
Rilo Kiley-"15"
This lovely horn laden track off of their latest album
Under The Blacklight
took some time to grow on me, but now I love it. This is a great song to sing while following the dusty landscapes. I mean what can be better than singing, "But she was only/only/only/15!" at the top of your lungs with the windows rolled down? Plus the theramin solo is just wicked.
Bob Dylan-"The Man In Me"
Kind of a cult favorite, this track off of 1970's
New Morning
is so sublimely happy, is it to good to be true? Maybe, but I don't care and neither should you. Just sing those la la las until everyone on the highway starts singing along.
Joe King-"Speak On Up"
Normally a guitarist for other Prix artists like Eddie Ray he got his own shot at singing duties in this quasi-gospel number. He has a smooth, unassuming voice that totally sells this tale of yearning and desire. On the road we have time to think of those ones who we wish would love us, and we just want them to "Speak on up!" All we need is some back up singers.
Kanye West-"School Spirit"
Right now I am in a big Kanye West mode. This hot track off of his first album
The College Dropout
is one of the best examples of Kanye's signature style of using great samples and speeding them up. Here he use's Aretha Franklin's "Spirit In The Dark" to maximum effect while rapping about dropping out of college to make it big. If only I were so brave. Whatever, I'm living vicariously through this song.
Casiotone For The Painfully Alone-"Destroy The Evidence"
Owen is a pretty emotional guy, but this one packs a wallop. Listening to this song at 5:30am on the road brought tears to my eyes. It has a great drum track and Owen is the Vonnegut of lo-fi with lines like "There are 26 steps to your door/but I'm not counting anymore". There is nothing so succinctly said, but so expansively felt.
Otis Redding-"Pain In My Heart"
Perhaps the greatest song about heartbreak of all time, Otis Redding's voice digs so deep into our minds and our hearts that I sit back reeling by how physically effected I get while listening. Try singing along to this and not losing your voice by the end of it. Sadly Otis Redding was not with us for very long, but his legacy will last beyond the end of time with songs like this.
The Pogues-"A Pair of Brown Eyes"
Shane MacGowen is the greatest drunk poet of the last thirty years and it really stands out in this track off of their second album
Rum Sodomy & The Lash
. "And I heard the sounds of long ago from the old canal/and the birds were whistling in the trees/Where the wind was gently laughing." Sentimentality has often been associated with schmaltz, but Shane MacGowen and The Pogues shed those labels. They took gritty realism and infused it with romantic sentimentality creating songs like this one that made you cry and smile at the same time. A great sing along too, "And a rovin' and a rovin' and rovin' I'll go/for a pair of brown eyes!"
The Temptations-"I Wish It Would Rain"
This 1968 tune from Motown's greatest hits all the right notes at all the right moments. Probably one of the most melancholy songs sung with the original lineup you just can't help but feel lines like, "But everyone knows that a man ain't suppose to cry, listen/I gotta cry 'cause cryin' eases the pain, oh yeah." All the men out there gotta sing this one loud!
Freezepop-"Outer Space"
This song by my favorite Synthpop band is off of their second album
Fancy Ultra-Fresh
. It makes me feel infinite. Listening to it at six in the morning when the sun starts to rise feels like nothing else. I'm soaring, flying sailing speeding through this world and beyond.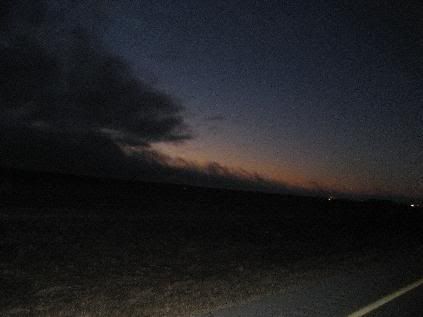 There is a dusty road somewhere that is most beautiful at 6 am
MIX TWO is complete. Sorry it took so long to get up, but I'm in-between apartments at the moment. When I get settled there will be more updates I promise!
Links:
The Last Record Store in Santa Rosa
Rasputin
Amoeba
The Monks' site
Rilo Kiley on Myspace
Bob Dylan's site
The Numero Group with info on Joe King and more!
Kanye West on Myspace
Casiotone For The Painfully Alone on Myspace
Otis Redding's site
The Pogues on Wikipedia
The Temptations on Wikipedia
Freezepop on Myspace